Bill Rebeck, PhD: Neuroscientist. Professor. Playwright.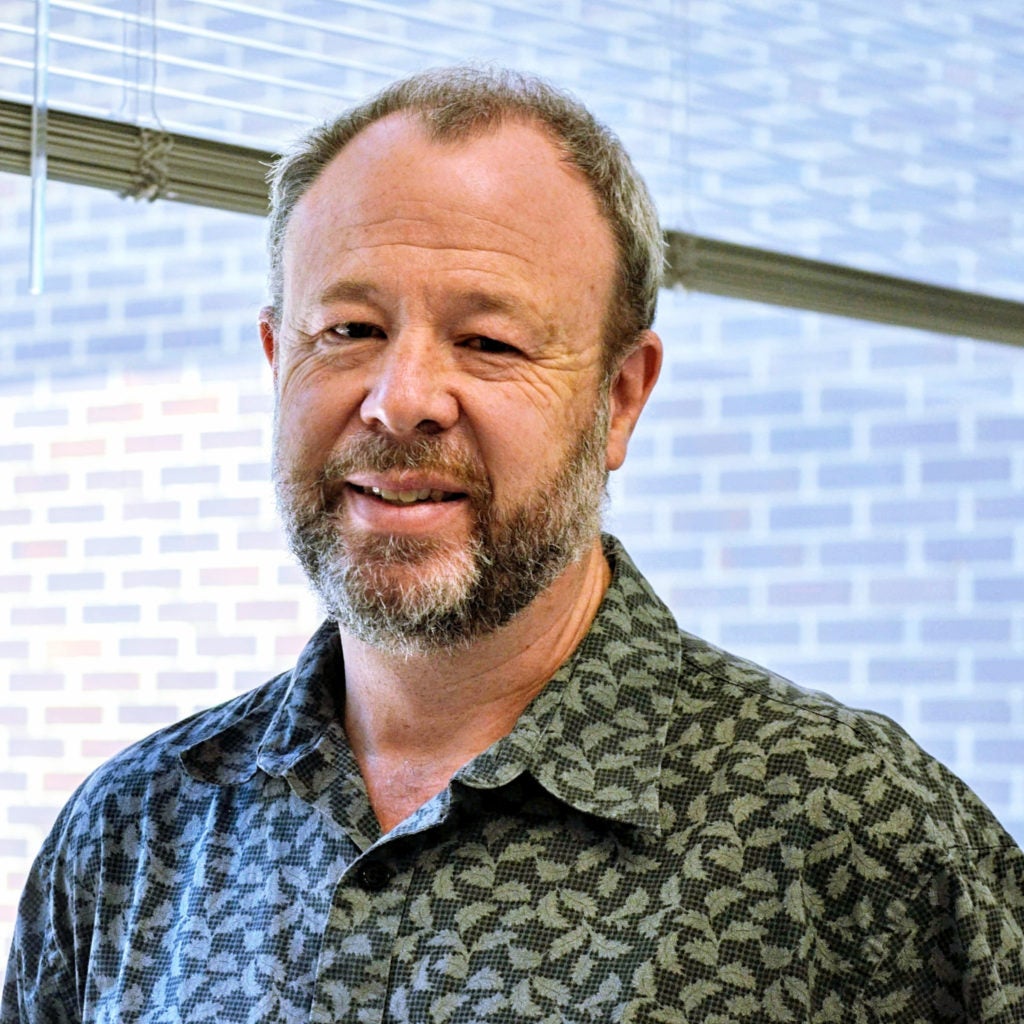 Professor, Department of Neuroscience
"It's fun to actually walk people through the basics and be able to look back and say 'Yeah there was a time I didn't know any of this stuff.' "
At Georgetown University since 2003
---
I teach a course on neurodegeneration which I love, because that's my research. This is a course where I have others come in and talk about areas in which they are experts. I will talk about Alzheimer's disease, about commonalities among neuro-degenerative diseases, about how cells die – I love talking about topics that I know a lot about, but then there will be people who come in and talk about Parkinson's Disease, ALS, or encephalopathy associated with chronic traumatic injuries. A big part of what I do in that class is not actually lecturing, but getting people together who can do a better job than myself lecturing on those topics. I also teach a basic neuroscience course for students in our Masters in Integrative Neuroscience program. I like that course because it is such basic neuroscience that I just find it so interesting. I was not trained as a neuroscientist. I studied chemistry as an undergrad, then earned my PhD in toxicology, and finally got into neuroscience through studying Alzheimer's disease. Over the years, there's been a lot of basic neuroscience that nobody taught me and I had to learn through books, through interactions, through reading primary literature, and so I really like teaching basic neuroscience because I remember what it felt like to not know anything.
Successful students are enthusiastic, persistent, and careful.
Doing science is saying "there are things we do not know and I'm going to work to try and figure them out." Students generally succeed when they are persistent and enthusiastic about doing science. Sometimes you will find a student who just wants to be in the lab, and their personality fits well with spending time in the lab. They like doing it and so they are in the lab more than other people. When they have a problem, they are not put off from the lab but instead inspired to work harder, ask more questions, and read more literature to try to solve this problem. The third trait in a successful student is someone who is careful as being careful really helps with being in a lab. They take notes when learning a new technique, and follow the protocol the way it's written. These students will make mistakes and learn from it, so they won't make the same mistake again. And successful students don't have to have all of those qualities, but the more of those qualities you have, the better you are as a researcher.
The genetics of Alzheimer's disease.
We study a lot of the basic science of Alzheimer's disease, specifically we study the genetics of Alzheimer's disease. We have 20,000+ genes, almost all of them have genetic variation, and those genetic variations are why we are all genetically different from each other. However, some of those genetic variants put you at risk of disease while others protect you from the disease, so you can also learn about important proteins and processes for the disease. It's interesting in the sense that there are a lot of people with these variants and because they are risk factors, not causative factors, it encourages you to think that there's something to do about it.
A professor and a playwright.
I have a Master's in Fine Arts in Creative Writing, so I spend some of my free time writing – I actually like writing 10-minute plays, but that's not something a lot of people talk to me about.
All my plays have something to do with science… I don't feel like there are fun ways to hear about how science works, so I like this idea that maybe I would be able to make something that people could see and learn a little bit about science. That being said, I think my favorite 10-minute play is about an individual who was diagnosed with ALS and knew that he was going to die sometime in the near future. He is talking to his young son who does not understand anything yet. The father says a lot of ridiculous things to his son, hoping that one of these ridiculous things is going to stick in his head and remind the son that he had this strange father.