Julie Fischer, PhD: The bigger picture of public health.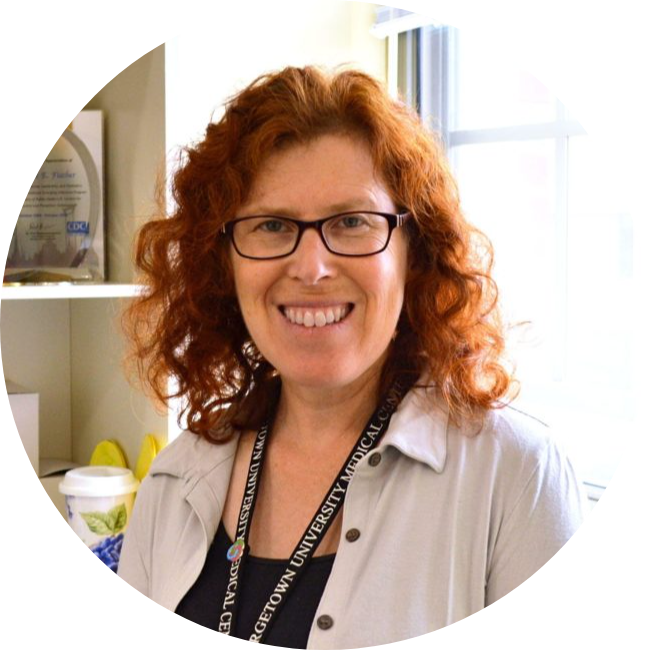 Director, Elizabeth R. Griffin Program
Associate Research Professor, Department of Microbiology and Immunology

Years at Georgetown: 2
"I define success as having the opportunity to do work that you are passionate about, makes the world better, and is intellectually, spiritually, and professionally satisfying."
Evidence-based practices in biosafety.
When we talk about the "evidence-based practices" behind biosafety policies and practices, you realize it is not very stringently researched. In the field of biosafety, a lot of what our program tries to do is find out what is required in order to put systems into place that protect the laboratory workers on the front lines. The lab workers are those who provide diagnostic and public health services and are critical to detecting disease outbreaks in a timely manner. However, these workers are often a neglected part of the discussion because laboratory services tend to be a little bit mysterious to clinical and public health personnel.
In our research, we look for examples of validated practices that are evidence-based, and what can we learn from them? How do we analyze, replicate and create templates from these best-practices so they can be used again and again elsewhere? For researchers in the laboratory, risks are usually known — they know what biological hazards they are handling, whether they are studying infectious diseases or working with non-infectious organisms. Our team does more than just promote the understanding of those hazards. We help to develop leadership in implementing strong biosafety, biosecurity and occupational programs for researchers who tend to know what the hazards are but are also exposed to them in a concentrated and sometimes unnatural way.
"We train, educate, and conduct outreach to help leaders in health systems, universities and federal associations understand what can be done to mitigate biological risks."

Laboratorians in public health and diagnostic labs experience the opposite challenge. They are rarely exposed to large amounts of a specific pathogen, and they don't know what's walking through the door on any given day. So what we do there is we ask the same type of questions but to the inverted challenge. So that's what my group does. We try to understand what is needed to provide the diagnostic services and the public health services for disease prevention in a safe, timely, rapid and accurate way. Then we try to understand what can be done to protect researchers from biological hazards and exposures.
A mission-driven environment.
I very much like Georgetown's mission-driven environment and the idea that we are doing something here that is larger than just addressing specific medical problems or specific research problems. We have a larger mission to look at all of society – the motto for the medical school is Cura Personalis, care of the whole person – I would like to think the research mission here is addressing all of society. Since my work is very global, we can't just address the technical problems. We have to look at all of the societal drivers, cultural issues, and socioeconomic issues that create disease outbreaks and allow diseases to spread. It is about the social determinants of health and that is social justice as much as it is science.
"I am not saying that science is easy, but it is learning a set of facts and knowledge and skills. You can keep doing that your whole life, but the skill to be able to write and learn how to present yourself confidently cuts across every discipline."
Education is more than a set of requirements.
Instead of thinking of education as a set of requirements, think of it as an opportunity to acquire a set of skills and knowledge that can take you somewhere and you can continue to build upon. I was an English and Biology double major in undergrad, and that is pretty unusual from most other researchers. My English degree and theater/creative writing concentration were the fun thing I did while gaining the essential skills I would need for my career. I have realized, however, as I continue along my journey that those writing and speaking skills have been as important as the background knowledge I learned in science.