Erin Sorrell, Ph.D.: Defining laboratory capacity and the Ebola Response.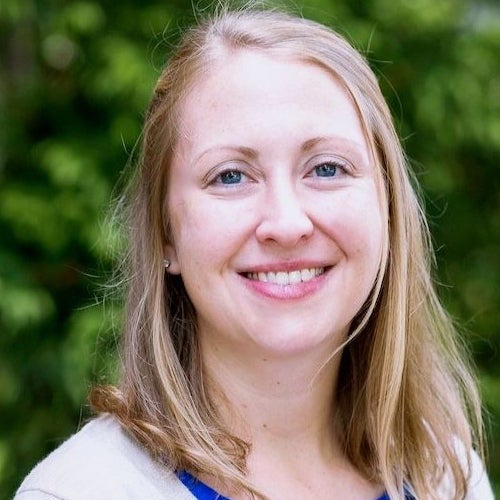 Assistant Research Professor, Department of Microbiology and Immunology
Member, Center for Global Health Science and Security
"I think Guinea, Sierra Leone, and Liberia showed us that Ebola in an urban setting can go from a few cases to a massive outbreak in a matter of weeks."
At Georgetown University since 2016
---
The case of Ebola.
I was part of a team through the Center for Global Health Science and Security that worked on Ebola response and recovery in Guinea. Our initial project was to focus on recovery and capacity building efforts but we ended up spending a majority of our time in the response phase. It is interesting when you see a disease emerge in a country that did not have it on their radar at all. Ebola was a disease that had been a focus of countries in East and Central Africa and typically occurred village-type settings where it could be contained and where it is not easily spread.
In cases like the Ebola outbreak, when you do not have a lab that can detect diseases and you do not have people who are trained to run diagnostics or to troubleshoot, you are put at a considerable disadvantage. Our partners in Guinea were fantastic and eager, but they were starting from a level of lab capacity that was much lower than what should have existed. So it was definitely a challenge, but it was a good challenge.
The Council on Foreign Relations.
The Council on Foreign Relations (CFR) Stephen M. Kellen Term Member Program is an opportunity for early-mid career professionals across policy, economics, and health security disciplines to get exposure to international and US foreign policy. It has been a highlight of my career to be accepted to the program. I have enjoyed being able to participate in CFR events and getting to know the members. I am one of a few global health scientists in my cohort where membership expertise is mainly focused in the areas of: foreign policy, international studies, economics, business and development. There are a couple of scientists, and we have found each other, but it is fun to see other perspectives on relevant topics across the disciplines.
Defining laboratory capacity.
You could approach the concept of lab capacity from a physical infrastructure, and/or safety and security perspective in line with biosafety and biosecurity. From that perspective, you would ask questions such as, "How are those individuals who are working in the lab protecting themselves and working in a safe and secure manner?" It requires thinking about the basic infrastructure, management and security of the building so the bugs can't get out. Meanwhile, others are looking at whether or not a lab has the capabilities from a personnel and operational perspective. That means having trained individuals, resources, reagents, and equipment to conduct the basic tests for detecting and determining whether or not you have epidemic-prone diseases or diseases that are priorities for your health system. Most countries have notifiable disease lists, and when lab capacity is lacking, clinicians have to base their treatment protocols on clinical presentation. In my work, I focus on what a laboratory needs to have the basics for detecting disease, and in that discussion, we include biosafety and biosecurity.