Kathy Maguire-Zeiss, Ph.D.: Love in all its forms.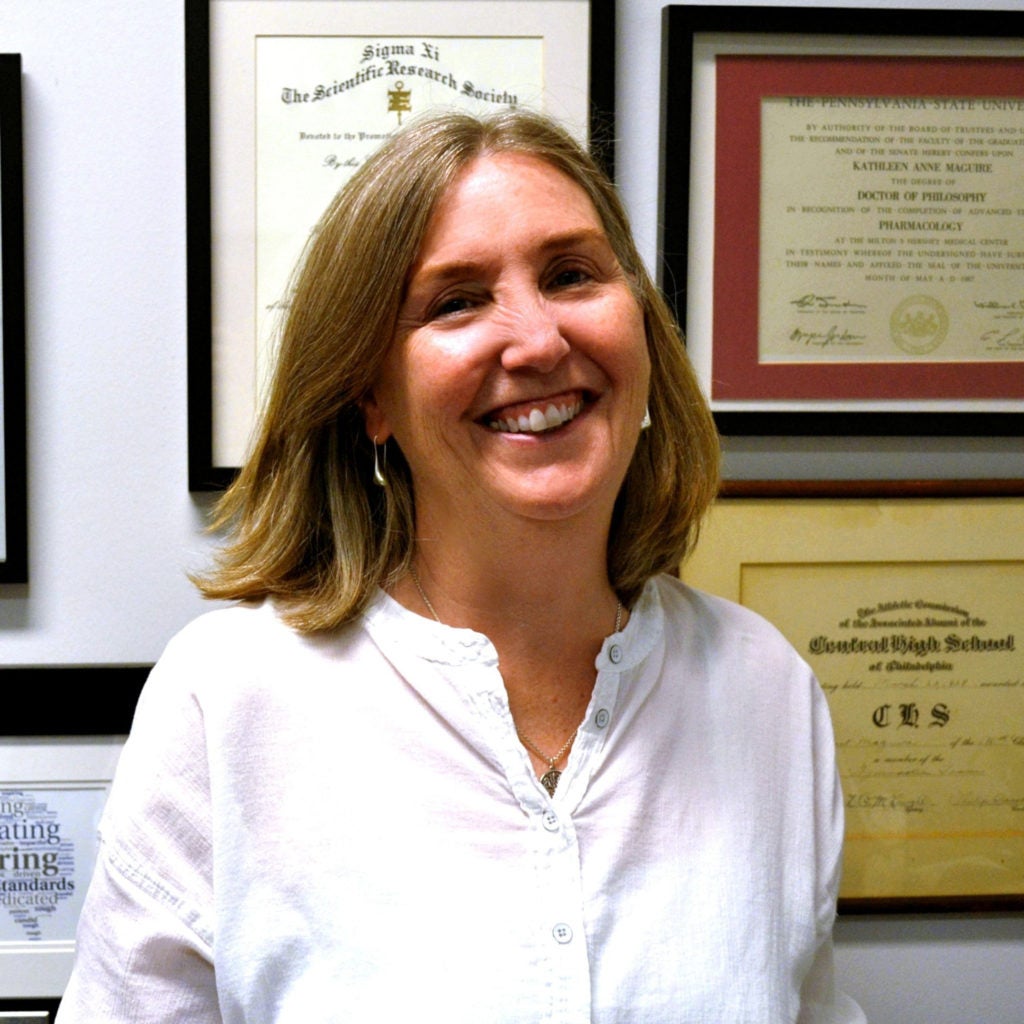 Director, Interdisciplinary Program in Neuroscience
Director, Master's in Integrative Neuroscience
Professor, Department of Neuroscience
"The truth is, if you love something it doesn't really feel like work, it's just who you are, and life and work will meld together pretty easily."
At Georgetown University since 2007
---
The Ignatian way of educating.
Since coming to Georgetown, there have been lots of changes for me. Previously, I was in a research-track position at the University of Rochester, so I was not teaching or doing many of the things I am doing now. Georgetown has been a great environment to nurture the other side of my career that I have come to love, which is teaching. I have also been given the opportunity to lead our Neuroscience graduate programs, and that is a real honor. I am learning a lot about that process and about how education moves forward, and Georgetown is a special place for that because of our Jesuit roots. The Jesuit influence here has helped me adopt the Ignatian way of educating, which encourages reflection and caring for each other. It makes the learning and education system stronger for everyone.
Dedication to taxpayer dollars.
We have a big responsibility when we receive funding from the National Institutes of Health (NIH) – those are taxpayer dollars! We have a big responsibility to show up every day and work hard to make sure the money is used for the largest impact and discovery. So, because of that, I push and prod my students. I want the best for my students while they are with me, but if I do not see the commitment to research that is needed, I tell them.
It's harder to let go than to hold on.
One challenging thing about mentoring is the relationship because it is a very close relationship. However, they are not going to change my personality, and I am not likely to change theirs. It has to be a relationship where we can work together, and that can be challenging at times. That is why lab rotations are so necessary because that is where you get to sense the personality part – can we work together? It's the same challenge I face as a parent. Letting go and letting them find their way instead of managing what they are doing. As a parent, it takes more love to let go than to hold on, and it is the same in the lab. It is easier for me to hold on than to let them do things and make mistakes on their own, all while balancing that with the real cost of research. It is hard for me to watch them make a mistake, so I have to find the best way to do that.
A world of smart people.
The grad students come particularly interested in research, which is good because that is what they are going to be doing! What I say and what they hear may not be the same thing. Here is what I hope they hear: if I can do it, then they can do it. It's really about showing up and working hard. All the students are smart, but there are a lot of smart people in this world. So, how much of it is luck then? It depends on your definition of luck. I definitely believe that luck can increase by the number of experiments you do, so I encourage my students to work hard and look at what they perceive to be failures as really great learning experiences.
Love conquers everything.
When I was pregnant with my second child, my husband was diagnosed with a brain tumor and passed away within two and a half years. That was something we weren't expecting, but I learned that love does conquer everything. The love of our friends and the love of our family allowed me to continue in my career. I didn't expect to be in a research-track position for such an extended period, but I just needed to work. It took me a while to learn how to move myself and my family forward, and I think that's what made my transition to Georgetown so special. When I started at Georgetown, my kids were going into 6th grade and 10th grade and we had to leave a community that we had been with for a long time and move toward this new challenge. We did it as three people working together, and I think for us it was the perfect time to do that. We all found great communities here in Washington, and for me that community was right here at Georgetown amongst the faculty, the administrators, and the Jesuits.