Brent Knoblauch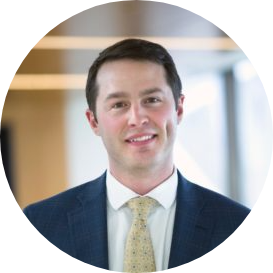 Brent Knoblauch

Strategy Consultant at Navigant Consulting Inc. 
"My courses at Georgetown prepared me to walk the walk and talk the talk."
About Brent
Brent Knoblauch earned a Master of Science in Biotechnology from Biomedical Graduate Education (BGE), Georgetown University and graduated in 2017. During his time at Georgetown, Brent received a Certificate in Bio-Business, as well as a Certificate of Excellence in Entrepreneurship, and graduated with Academic Honors. Brent also interned at BroadOak Capital Partners, an investment bank focused on the life sciences industry.
Can you briefly describe the work that you currently do and how you got to this position?
I am currently a strategy consultant with Navigant Consulting Inc. My work is primarily focused on developing regulatory, reimbursement, and pricing strategies for clients with novel technologies within the pharma, laboratory diagnostic, and medical device industries. I reached my current position through an information session held by Georgetown's Biomedical Graduate Education. My conversation with one of the directors of the presenting company after the presentation led to him providing me with an email I could send my resume to. After four interviews and a trip to San Francisco, I was offered the position.
What strategies did you use to build your network and find job opportunities?
I looked for any opportunity I could find to speak face to face with someone. Cold emails are hard, so I attended as many guest seminars and lectures that I could. After these presentations, I would always try to find a way to engage with the speaker after (if possible).
[Check out our article, The Power of Informational Interviews, for tips.]
Tell us about your Georgetown graduate experience. How did your Georgetown graduate program inform your professional outlook and career choices? 
My experience with my graduate program at Georgetown was definitely transformational. I knew I wanted to work in the biotech/biopharma industry but my undergraduate institution offered very little to no exposure. My courses at Georgetown prepared me to walk the walk and talk the talk. The program not only taught me about the economics of the industry, who the key players were, what type of careers were available, but it also introduced me to professionals within the industry. A majority of my courses were taught by industry professionals. This was great for networking as well as providing real-world examples of what a career in the industry looks like.
If you could go back and change anything about your job search process, what would it be and why?
I think it would be to try and be more patient. I know it's hard because there's a lot of anxiety about getting a job before you graduate, but you can easily rush into a position that isn't a good fit. You have to think about the long-term play: Where do you really want to be in 5 – 10 years? Does this position help you get there?
Do you have anything else that you would like to share?
Take advantage of all of the unique opportunities that your graduate program has to offer, and take time to have fun and explore D.C. It will be over before you know it!