'Future Stars': First-Generation Student Success
During this time of celebration for the many accomplishments of our students, Carla Owens-Filice, Project Manager in the Biomedical Graduate Education's Office of Career Strategy & Professional Development, presents this interview with a biomedical student.
At the start of each semester, our academic programs welcome students from many backgrounds. Some are first-generation students eager to pursue a biomedical degree at the graduate level. Coming from a global range of communities and experiences, they pursue their life goals and make their dreams come true.
First-generation students, whose parents did not graduate from college, may face limited resources and a gap in their understanding of the university experience. They must educate themselves and seek out help and knowledge. With passion and tenacity, they overcome any challenges and obstacles they face.
Our goal is to give you a glimpse of their lives and what motivates them to pursue and accomplish their goals while at Georgetown University Biomedical Graduate Education.
—Carla Owens-Filice
Farzad Sarkari, M.S. in Systems Medicine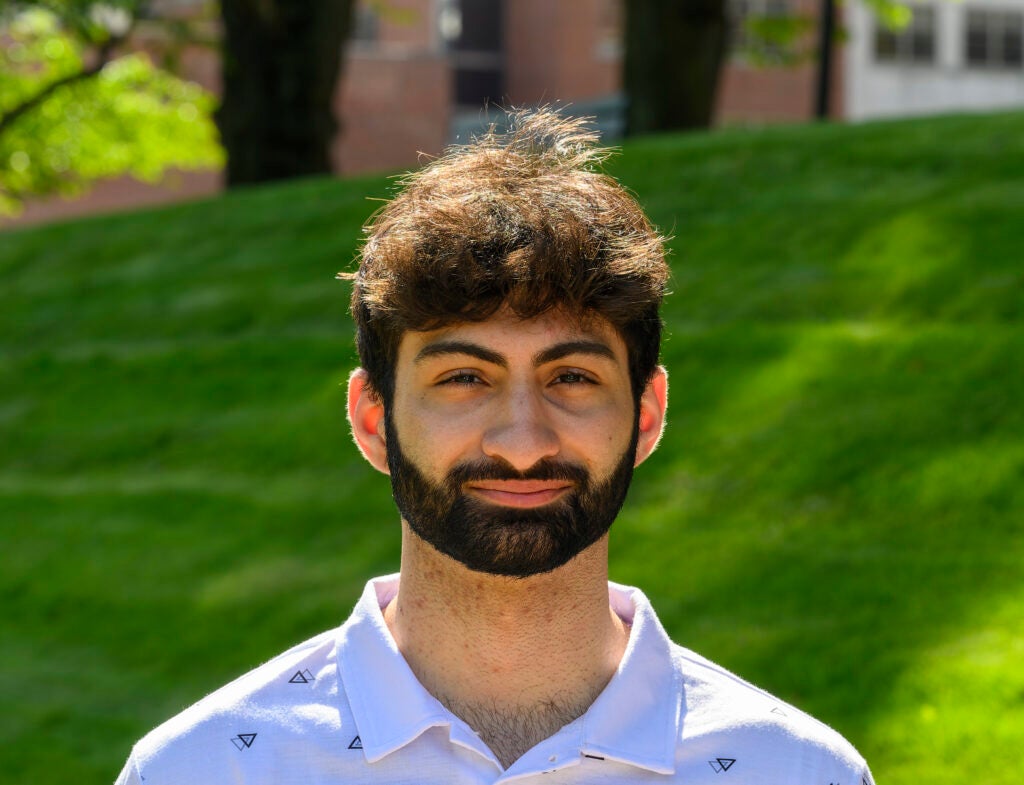 I am pleased to introduce Farzad Sarkari, the first member of his family to attend college. While pursuing his education, he excelled at Dulles High School in Sugar Land, Texas. He received a B.A. in Mathematics and Chemistry from Oberlin College, where he also discovered his passion for medicine as an athlete.
What made you interested in pursuing a biomedical degree, and what was your most memorable experience at Georgetown?
By studying biomedical science, I would have the opportunity to discover "different and upcoming" areas of medicine, rather than the traditional ones I am already familiar with. During this program, I've learned new techniques and databases that are used in the biomedical field, and I'm surprised by how many of them I've never heard of before.
It may seem very cliche, but meeting my classmates at Georgetown was my most memorable experience. I was online for a bit at the beginning of the program due to knee surgery, but when I met my classmates … wow, do I love those guys a lot. They are a second family, and I'm grateful to have such a loving family.
 What does it mean to you to be a first-generation student? 
First-generation students are the future stars of their families. As the oldest child in our family, I hold my siblings to a high standard to either achieve the same success as me or even be better than me. 
Most of the time, my mother tells my sister to be like me because of my accomplishments, and at other times, she tells her to do better than me when I have "failed." On the other hand, I do not always hold my sister to the same standards. Due to our close relationship, I know her strengths and weaknesses, but I also know what she enjoys. Using this knowledge at my disposal, I can help her and provide mentorship. While I aid her in improving her shortcomings, I don't hold her to such high standards. Otherwise, she could become discouraged if her goals are not achieved.
How will you use your degree to advance in your career?
I intend to use my degree to expand my medical field opportunities and assist me in applying to medical schools. 
Where do you want to make an impact? 
No matter where my specialty takes me, I will utilize all my general life knowledge to help me in my career path. I haven't applied to any schools yet because I'll be taking my MCAT in June. As a professional, I see my impact on improving the quality of people's lives. Two reasons lead me to my goal of becoming an orthopedic surgeon in the U.S. Navy.
First, I will prioritize the health and safety of patients as an orthopedic surgeon so they can resume an active lifestyle. My background as a very active and athletic individual enables me to understand how stressful it is to be out of the gym for a while after having surgery, so I try to make this process as stress-free as I can for my patients.
Secondly, I want to become an officer in the Navy. My role as an officer will include being in charge of people and using all the skills I have gained throughout my life to ensure I don't lose lives. I believe it is my responsibility to ensure that the individuals who keep me safe are in good health, since they work tirelessly every day to ensure our freedoms and security in the U.S.
How does your family feel about your being the first to graduate from college?
My family was quite proud of me for this considerable feat in my educational career.  They hope that it can inspire my younger sibling to succeed in whatever they partake in their career path.
What advice would you give to other first-generation students? 
Don't compare yourself to others; that is how you will not succeed. Everyone is different, and everyone has their strengths and weaknesses. Use your strengths as your advantages and allow them to help bring up your weaknesses. Go at your own pace, and don't let anyone tell you otherwise.