Janet Li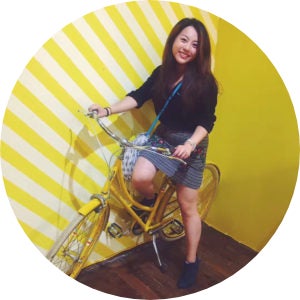 Clinical Programmer II/Senior Associate at Pfizer Oncology
About Janet
Janet Li earned a Master of Science in Biostatistics (new window) from Biomedical Graduate Education (BGE), Georgetown University and graduated in 2017. During her time at Georgetown, During her time at Georgetown, she conducted research on statistical considerations for the master protocol design being implemented in oncology trials under Dr. Robert Beckman. She also served as the Director of Groups for the Georgetown Graduate Student Organization. She was also selected to attend GapSummit, the flagship Global Biotech Revolution international leadership summit focused on innovation in the global biotechnology industry.
Can you tell us about your current work?
I am currently a Clinical Programmer II/Senior Associate at Pfizer Oncology in San Francisco. I lead the statistical programming activities for four clinical pharmacology studies as well as contribute to other statistical programming activities. Part of my responsibilities includes working with cross-functional teams on fast-moving studies where the programming deliverables are outsourced to CROs. It has been a rewarding experience to work with an interdisciplinary team, gain more SAS knowledge as it applies to oncology clinical trials, and continue to refine my communication, organization and time management skills while working within the Biometrics department at Pfizer. On a side note, I have fallen in love with San Francisco and with the lovely views of the city that I get from the downtown office location!
How do you use what you learned at Georgetown in this work?
The biostatistical theory knowledge along with the SAS programming knowledge that I learned through my graduate courses at Georgetown have helped me be successful in my day to day tasks at Pfizer. During my time at Georgetown, I had also worked as a Project Manager on several stroke-related research studies as well as serve as the Director of Groups for the Georgetown Graduate Student Organization. The project management skills that I had gained from both of these experiences have been crucial to my current work as well.
Can you share your story of why and how you negotiated your salary?
When I was interviewing for positions, I had already done some preliminary research regarding the median salaries of the position. In addition, I thought of my past experiences and what I would bring to the team and came up with an expected salary range in my mind. The offer I received was lower than the range I had in mind. While I was very eager to work on the oncology trials at Pfizer, I also wanted to make sure that I was receiving the pay that I deserve and so I decided to negotiate my salary.
It was scary for me because it was my first time approaching such a situation. I read a lot of articles online, constantly googling for conversation starters or prompts and hoping I could find a script that would just solve everything for me. Thankfully, I also asked BGE Office of Career Strategy and Professional Development (CSPD) for help. They were very supportive and provided useful tips on how to approach the process and also suggested that I look into some online salary calculators. The tools they provided played a big role in my successful negotiation.
As for the actual negotiation, it was a lot easier than I had imagined it would be (in fact, I was surprised since I had been so nervous)! The conversation felt very collaborative as the HR team was very receptive to the case I made for myself. In the end, they were able to meet my counter-offer and that was very exciting!
What advice do you have for students who have received a job offer and are beginning the negotiation process?
Some advice that I have for students are:
First and importantly, congratulate yourself! You deserve to celebrate. You've received the job offer and that is one awesome feat! The hiring team has found something in you and sees that you are a great fit for their company/organization and so remember that as you walk into the negotiation process.
Study your offer letter (written), research the job (median salary for the position in the industry and city of job offer) and do some introspection of yourself. It's important to know your numbers, but it's just as important to know your own value and what you bring to the table.
In the negotiation process, there are many things aside from the base salary that you can negotiate. These include but are not limited to yearly bonuses, sign-on bonuses, stock options, overtime, relocation packages, working from home.
Practice, practice, practice!
Take a breath – the hiring team/HR are going to be on your side as well!
P.S. Don't forget the wonderful resources available at Georgetown. I am so thankful that I reached out to CSPD when I received my job offer as they provided me with helpful tips and tools that allowed me to feel more prepared and calm during my negotiation process.
[Check out our blog post, Negotiating Your Salary, for more tips.]