Illuminating Influence: Insights from BGE's Class of 2023
By Carla Owens-Filice
In a world shaped by cutting-edge research, groundbreaking discoveries and transformative advancements in the biomedical sciences, the question arises: What makes a scientist influential? In what ways does one's work resonate beyond the confines of the laboratory, shaping the course of science and society?
To shed light on these questions, we turned to the bright minds of Georgetown University's esteemed Biomedical Graduate Education Class of 2023. These exceptional students represent a diverse tapestry of academic disciplines, research interests and personal journeys. Through their dedication, passion and unwavering pursuit of scientific excellence, they embody the spirit of exploration and the potential to make a lasting impact on the world.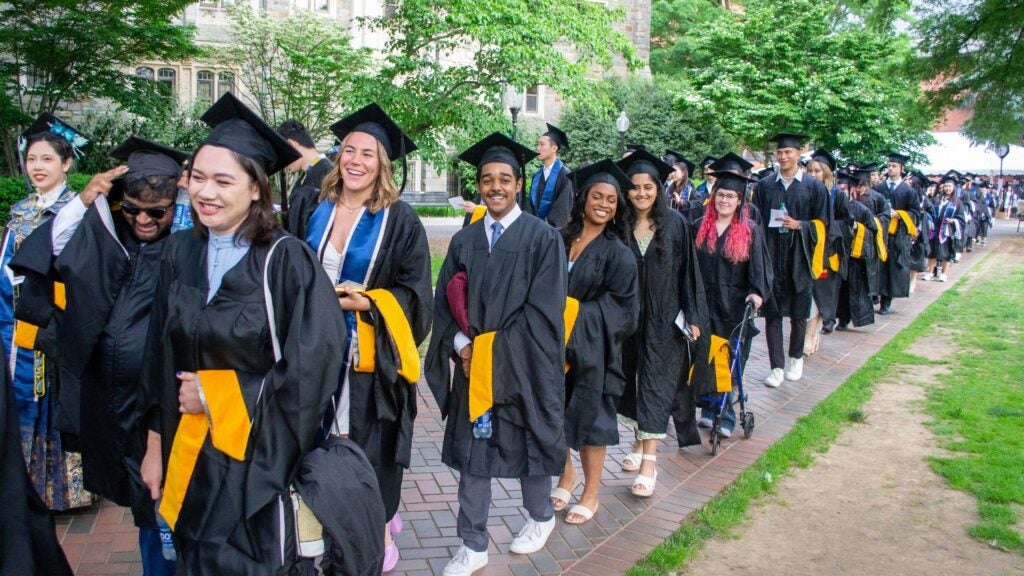 This interview series delves into the hearts and minds of these promising graduates as they share their insights on the nature of influence in the biomedical field. We explore their perspectives on backgrounds, challenges, and pathways they envision to effecting positive change.
From unraveling the mysteries of complex diseases to developing novel therapies and technologies, these students are at the forefront of innovation. By examining their educational endeavors, we uncover the seeds of influence that lie within their scientific pursuits. We learn about their challenges, the triumphs they celebrate, and the moments of inspiration fueling their endeavors.
Beyond their individual aspirations, these students also reflect on the collective influence of the scientific community. They consider the importance of collaboration, mentorship and interdisciplinary exchange in shaping their research trajectory and fostering a culture of influence. We explore how their experiences at Georgetown University have played a pivotal role in their development as scientists, equipping them with the tools and knowledge to make a meaningful difference in their respective fields.
Through their stories, we discover the potential for scientific exploration to transcend boundaries, effect transformative change, and shape the future of medicine. We hope you will be captivated, motivated and invigorated by these influential minds' remarkable insights and experiences.
Commencement Photos and Video
Browse photos from the 2023 BGE Commencement lineup and procession, and watch the recording of the Commencement Ceremony.
Ricardo Villavicencio
M.S. in Biotechnology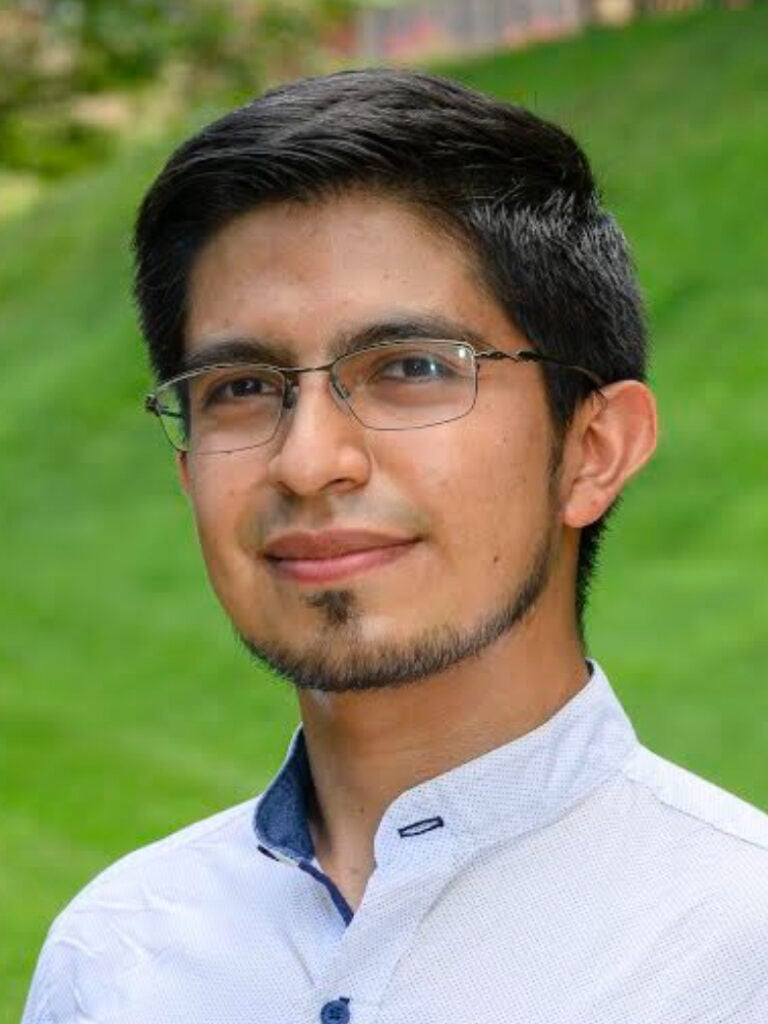 How would you describe yourself? 
I'm a resilient dreamer, thirsty for new knowledge and approaches to improve our quality of life. Coming from a Latin American country (my home country, Ecuador) with a Chemical Engineering degree, I have been diversifying my knowledge in several scientific areas, consistently following a multidisciplinary philosophy without forgetting the power of human connections.
Why did you decide to pursue a graduate degree?
My passion for understanding the basics of life and biological systems motivated me to pursue an M.S. degree here at Georgetown University. This program complemented my engineering side to start contributing to the biopharma sector and healthcare system.
What challenges did you face to complete your degree?
Registered as a full-time student, my two-semester-long program was a unique challenge – not only for the academic rigor but also for being my first master's program done abroad. My journey here only proved to myself that the sky is the limit.
---
Kobren Frederick
M.S. in Integrative Medicine & Health Sciences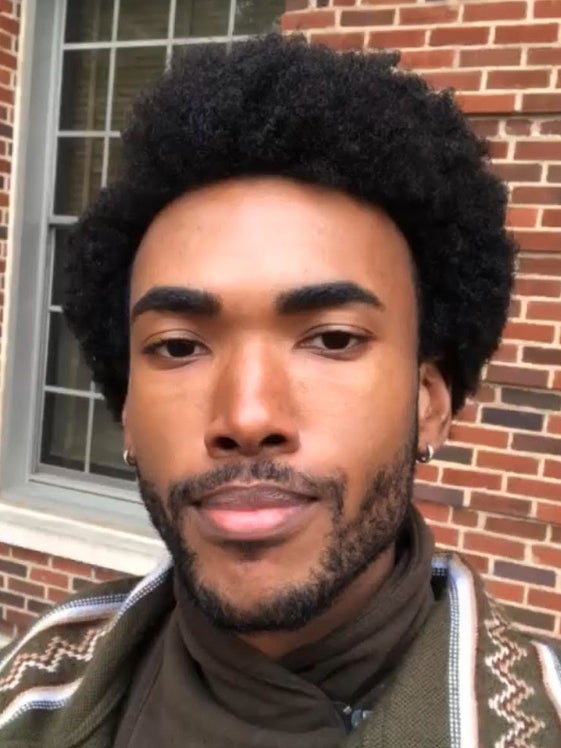 How would you describe yourself?
I would describe myself as someone who is a big kid at heart! I am adamant about connecting with my inner child, which has helped immensely in staying curious and imaginative about the wonderful world of medicine and genuinely seeing its magic.
A little about my background: I graduated from The Pennsylvania State University with a degree in Biobehavioral Health Sciences. I also competed on their track and field team. I have always wanted to go into medicine but felt like my scope in the expansive field was limited, so after undergrad, I decided to take two years off to learn more about it and myself. Ultimately, I learned of the concept of integrative medicine on a podcast and instantly fell in love with it; I researched programs that fostered those practices and ended up at Georgetown University, one of the best decisions of my life!
I have been an athlete my whole life, and so my hobbies mostly pertain to working out (I am also a group fitness instructor and personal trainer), but I also love listening to music, watching anime, and working on my spiritual practices. I am passionate about integrative medicine, environmentalism, human rights, and being one with the Universe!
Tell us about a favorite class or professor.
My favorite class during this program, which I will remember for the rest of my life and use with my students someday, was Mind Body Medicine with Dr. Haramati and Dr. Kitlinska. The class consisted of a small group of my peers and me; we were taught and led through mindfulness practices in a vulnerable judgment-free space that helped us understand and connect deeper with ourselves and how we engage life, like mindful eating! Thank you, Dr. Haramati and Dr. Kitlinska, for holding such a wholesome space and providing us with such a unique experience! <3
What challenges did you face to complete your degree?
The challenges I faced to complete my degree all pertained to the friction that occurs with growth: getting over imposter syndrome, letting go of old beliefs, finding more efficient study habits, time management, sacrifices, stopping procrastinating, planning better, etc. But to achieve goals you've never achieved, you must live life and start doing things you've never done before! I am grateful for the opportunity to prove I am worthy and competent; it's a big confidence boost!
---
Karen Amaya Aguirre
M.S. in Pharmacology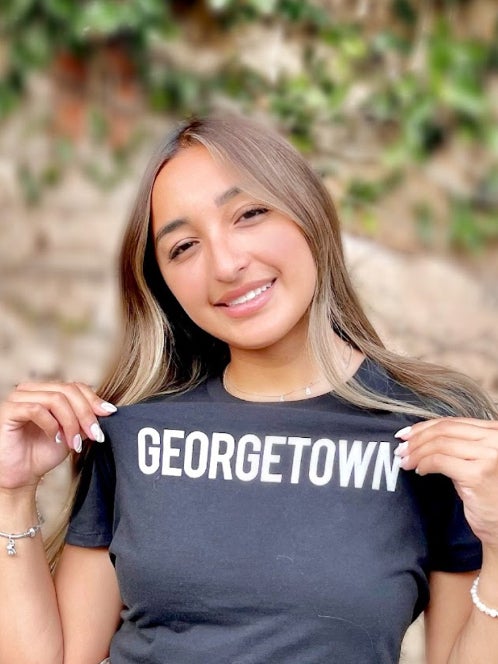 How would you describe yourself? 
Passionate, creative, and driven. I was born and raised in Guadalajara, Mexico – moved for college and graduate studies! My hobbies include photography and art, and my passions are centered on creative expression and medical research.
Why did you decide to pursue a graduate degree?
I decided to apply and pursue this graduate degree because I have always been interested in medicine but didn't know if I wanted to pursue an M.D. or a Ph.D.! This program has ignited my curiosity, taught me so much about physiology, pharmacological development – to treat and cure disease – and has given me clarity as to what I want my next steps to look like.
What challenges did you face to complete your degree?
The academic level you expect changes from an undergraduate to a graduate degree. Early on, My biggest challenge was being realistic about how much time and work I needed to invest in the degree (a lot!).
---
Marian Flaxman
M.S. in Biomedical Science Policy & Advocacy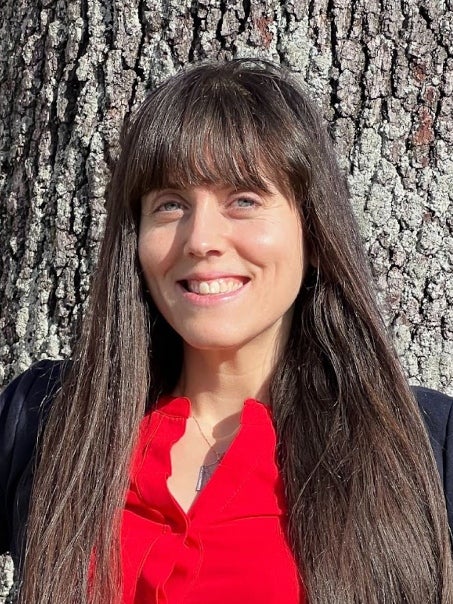 How would you describe yourself? 
I'm a former teen mom, restaurant owner and chef with a background in nutrition and fitness. I am passionate about health, using food as medicine, the microbiome, and fitness.
Why did you decide to pursue a graduate degree?
A few years ago, amidst a lot of political tension in the U.S., I saw a divide between those who valued education and those who did not. I considered myself to be someone who did, but I had never finished my undergraduate degree after becoming a mom at 19. I wanted to model my values for my daughters, as I do with food and fitness. I decided to leave my career in the food and restaurant industry and finish my bachelor's in Public Health. I got the learning bug and decided to keep going. The M.S. in BSPA was unique and perfect for my interests, and I fell in love with the curriculum the first time I saw it.
What challenges did you face to complete your degree?
This year was really difficult. My youngest daughter is in preschool, my middle daughter is in fourth grade, and my oldest daughter is a junior in high school. Between juggling my course work, I also juggle cooking and caring for three kids, balancing work schedules with my husband, helping my oldest think about her own plans for college, and caring for my preschooler during the many, many, many times that she got sick this year. Her first non-quarantine year in school meant a big catch-up for her immune system and many sleepless nights for me.
---
Jonah Golder
M.S. in Biotechnology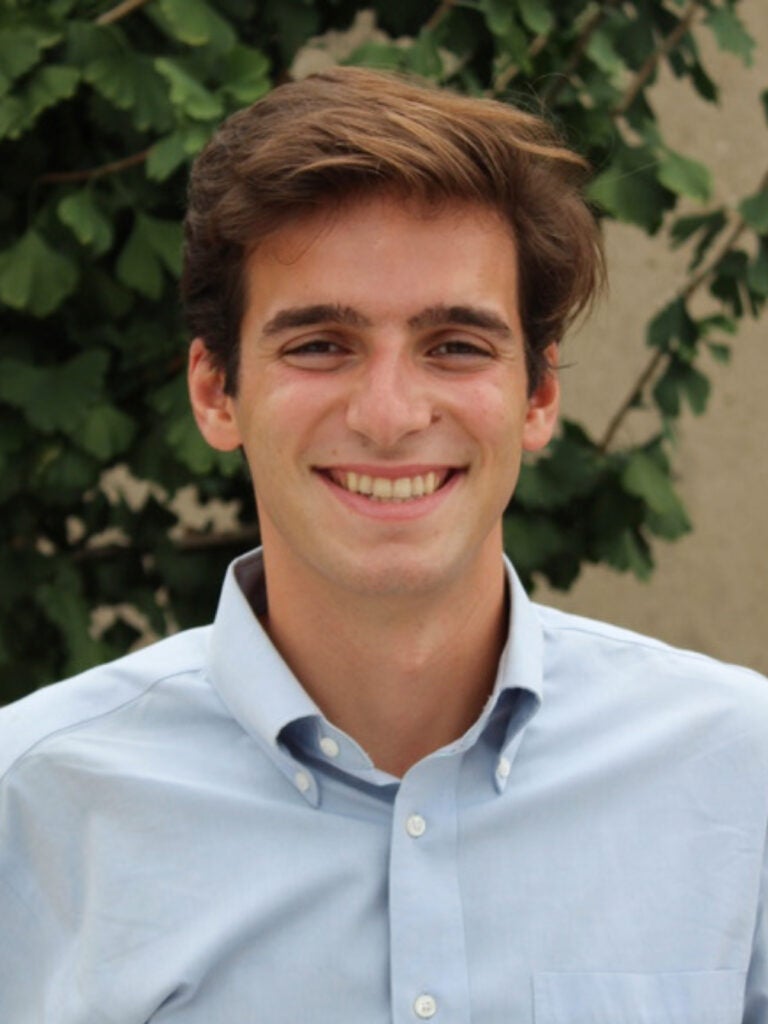 How would you describe yourself? 
I am a curious student who loves collaboration and is passionate about driving impact in healthcare. I graduated from Tulane University with a B.S. in Neuroscience, and after interning for multiple years at a biotech accelerator, I became very interested in the biotech and healthcare industry. This semester, I have worked at the Medical Device Innovation Consortium (MDIC), a local public-private partnership between FDA and medical device companies. I have worked in the Science of Patient Input (SPI) initiative within MDIC, and have been helping lead the construction of a database to better incorporate patient preferences into clinical trials.
Outside school and classes, I play on the Georgetown Men's Ultimate Frisbee team. Living in D.C. has allowed me to explore the local area's hiking and outdoors, as well as the vibrant food scene. When I have the time, I like to play guitar and see all the live music shows I can!
Why did you decide to pursue a graduate degree?
I wanted to get my master's degree because, as someone from a pure science background in undergrad, I wanted to bolster my background and gain a more comprehensive understanding of the healthcare industry. I chose the Biotechnology program because it was the perfect combination of my interests and allowed me to explore the many different facets of the industry on both the business and science sides of healthcare.
Tell us about a favorite class or professor.
My favorite class has to be our Entrepreneurial Biotechnology class. We meet weekly and throughout the semester to build a business plan for a Georgetown-licensed patent. This experience of constructing and thinking through the development of a startup from scratch allowed me to use the information we learned throughout the year in the program and apply this knowledge to a fundamental idea! (Even a real startup down the road!)
What challenges did you face to complete your degree?
Our first semester in the Biotechnology program was jam-packed with our core classes and provided a wide-ranging crash course. This pushed me to work harder, and I absorbed much information. Working through the fall semester allowed me to enter my capstone project in the spring with the newfound knowledge and background necessary to immediately make an impact at MDIC and, upon graduation, the broader healthcare field.
---
Congratulations to all of our biomedical graduates!
We invite you to visit our Alumni page to find out how you can take advantage of BGE resources and stay connected with the BGE community after graduation.