SMP Students Take On Wheelchair Basketball in Wheel 2 Win Fundraiser Tournament
Wheels spun, basketballs thudded on the hardwood and buzzers blared over Georgetown Special Master's Program (SMP) students at the Wheel 2 Win wheelchair basketball tournament.
The fundraiser for United Spinal Metro DC Chapter made a spirited comeback after a three-year COVID-19 hiatus, with six Georgetown teams and eight community teams coming together at Yates Field House on April 16 to learn from the Division 1 MedStar National Rehabilitation Hospital Punishers and then face off in 3-on-3 contests.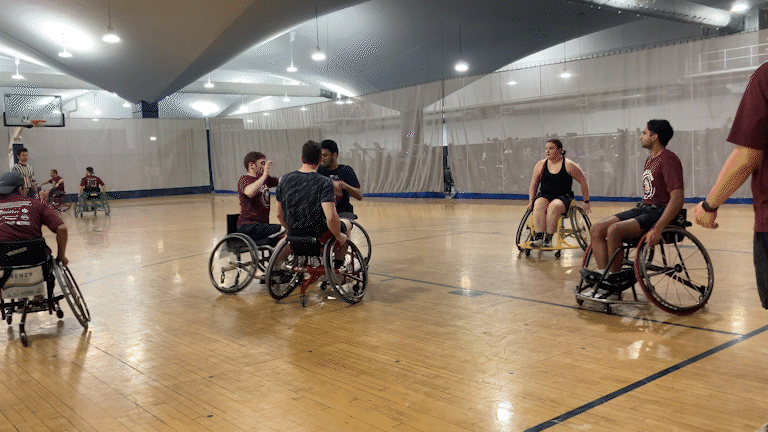 For Physio students, it was a high-energy day off from intensive pre-med courses.
"I'm having so much fun!" said Emily Deale, a student at the SMP's Georgetown Downtown campus and member of team Marvar's Knights. "It's fun to get out there, it's fun to learn a new sport, it's fun to just be in the community and do something good for people other than us."
Tournament entry fees, a bake sale and other donations added up to almost $12,000 for United Spinal Metro DC Chapter. Chapter President Dallas Disbro, who served as an emcee at Wheel 2 Win, explained that the organization "[builds] community for those underserved and don't have the resources, or maybe bad health insurance. … We do mentor programs, grants, all kinds of things, events for the community."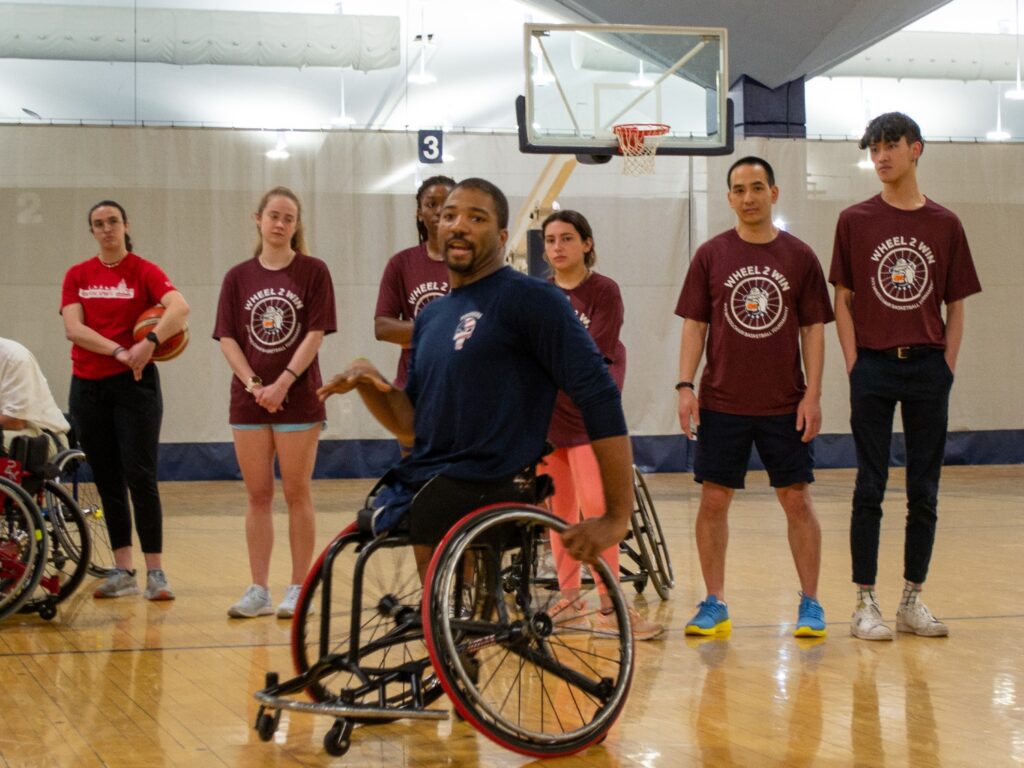 Before the games, Punishers player and three-time Paralympian Trevon Jenifer outlined rules on dribbling – two pushes of the wheels are allowed between dribbles – and blocking, passing and scoring. The students would play on a half-court with a single 10-foot hoop.
The Punishers put on a show, maneuvering and draining shots with ease. Students seemed to have just as much fun learning the basics.
"All the really good professional players, they make it look so easy," said SMP student Rohan Thakur, who competed as a member of The Way You Make Me Wheel. "It's really amazing to see."
Of his own experience through the first three games, Thakur said: "It's been an adjustment. … It's definitely hard shooting baskets from a sitting position."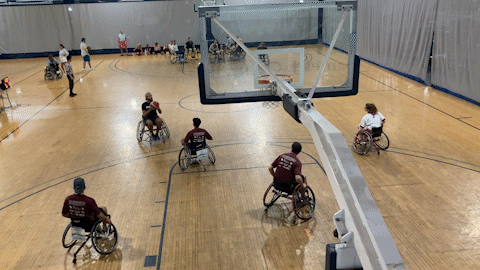 Competing alongside the Physio teams were students from other Georgetown programs, alumni, and community members. Maunik Patel (SMP'10 SOM'14), a friend of Disbro's, came to campus to play with team Murcielagos.
"It feels great to be back," said Patel, an interventional radiologist at Washington VA Medical Center. "I remember especially [in] SMP, first couple years of med school … this was kind of my place to burn off all that anxiety steam."
"Anytime [Disbro] has something like this going on, I'm always up to support him," Patel said. "Especially 'cause I see [spinal injuries] on the medicine side, so it's something that he and I can often talk about."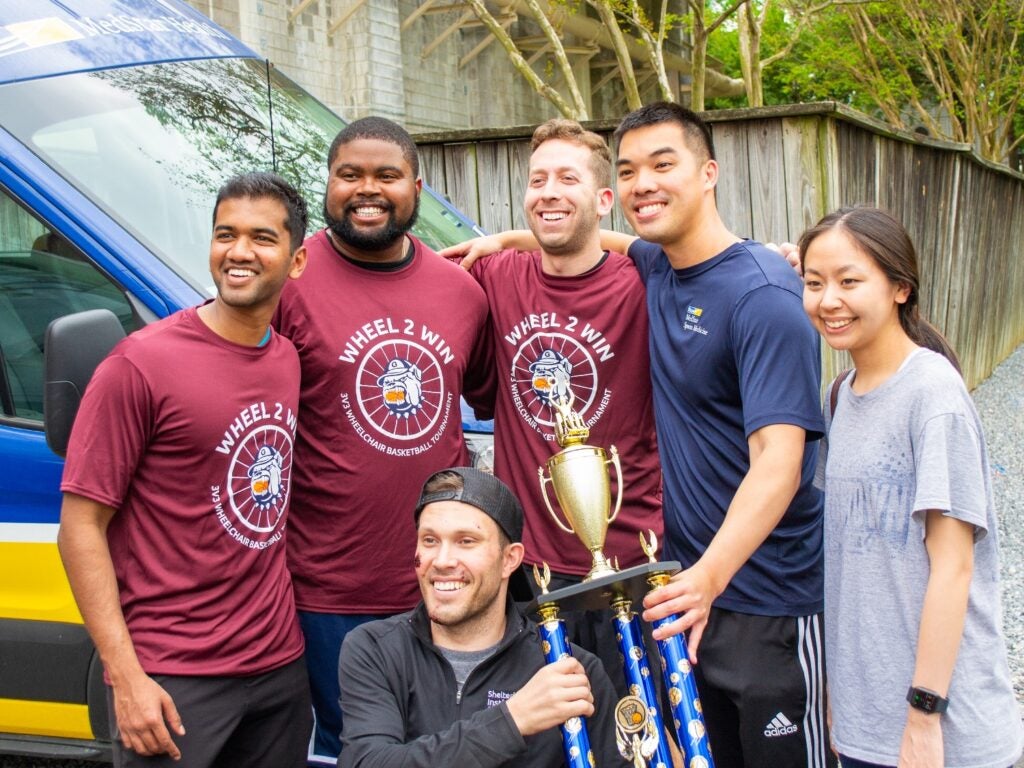 Wheel 2 Win elimination play was interrupted by a fire alarm, with two teams emerging undefeated. Team Wisotzky, a squad from MedStar National Rehabilitation Hospital's Physical Medicine and Rehabilitation Residency Program, was crowned the winner by forfeit.
Players went home with T-shirts, raffle prizes, and a deeper appreciation for adaptive sports and the disability community.
Jenifer praised participants' hustle: "It brings awareness to our sport and it raises money for a good cause, so it's awesome to see. … Everyone's competitive out here, and it's a game that we love and we practice, we play, so it's awesome."
Dallas Disbro accepts a donation to United Spinal D.C. Metro Chapter.
Trevon Jenifer maneuvers on the court with the MedStar NRH Punishers.
The tournament drew 16 teams, including five teams of Special Master's Program students.
SMP Clinical/Service Director Holly Frost poses with scorekeepers.
Players compete on the court.
Scorekeepers watch the games.
Players learned to use basketball chairs.
A player recovers a runaway ball.
Marvar's Knights pose together, with an appearance by SMP Professor Susan Mulroney.
Members of team The Way You Make Me Wheel pose together courtside.
Members of team Washington Quokkas pose together.
Members of team Spinal Tap pose together.
Dallas Disbro, left, poses with Maunik Patel (SMP'10 SOM'14), center, and team Murcielagos.
Team Wisotzky members show off the tournament trophy.