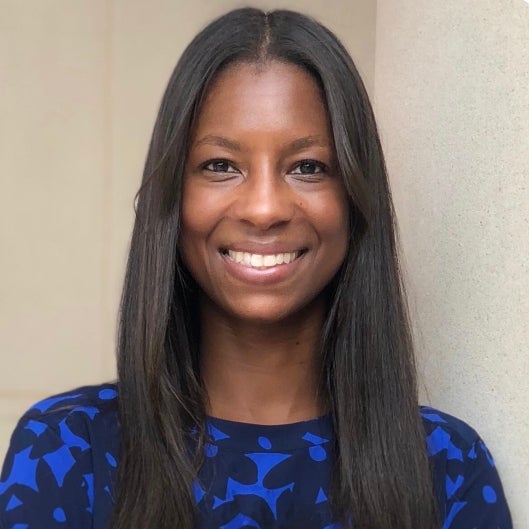 Postdoctoral Research Fellow, Cancer Prevention and Control Program
---
About Randi
Randi M. Williams, PhD, MPH is a Postdoctoral Research Fellow in the Cancer Prevention and Control Program in the Lombardi Comprehensive Cancer Center at Georgetown University Medical Center (GUMC). Her research is focused on clinic-based multilevel interventions to reduce disparities in lung cancer screening. Dr. Williams received her PhD in behavioral and community health from the University of Maryland, College Park, School of Public Health. Dr. Williams obtained her Master's of public health in behavioral sciences and health education from Emory University, Rollins School of Public Health. Prior to attending Emory, she received a Bachelor of Arts degree in psychology from Syracuse University.
Why Georgetown University for your postdoc?
I previously worked as a project coordinator in the Cancer Prevention and Control Program at GUMC in 2005-2006, and again from 2008-2010. From 2010-2019 when I was not at GUMC, I continued to collaborate on manuscripts with Dr. Kathryn Taylor, Professor in the Department of Oncology. During the dissertation phase of my PhD, given my interest in lung cancer screening and focus on cancer disparities, I collaborated with Drs. Taylor and Adams-Campbell (Associate Director for Minority Health and Health Disparities Research) to submit a diversity supplement to Dr. Taylor's R01, a smoking cessation trial in the lung cancer screening setting. It felt like coming home when I started as a postdoc in July 2019.
What is your research focus? What sparked your interest in it?
My research is focused on clinic-based multilevel interventions to reduce disparities in cancer. My background demonstrates formal training and research experience in cancer control observational studies and individual-level behavioral interventions, largely in community-based settings. Through this work, I learned the importance of outreach and education to underrepresented and underserved communities to address barriers to cancer prevention and early detection. These experiences also highlighted challenges in the continuum of care, as individuals identified in the community must ultimately receive health services in a clinical setting. Substantial barriers exist in this environment as well. To ensure that evidence-based interventions have their intended impact and that cancer prevention and control disparities do not persist, I seek to build a program of research that develops and evaluates multilevel interventions that lead to reduced disparities within clinical settings.
What is the name of the award you received?
The grant that began March 1, 2021 is a 5-year NIH/NCI K99/R00 career development award. This is a grant from the NCI's Pathway to Independence Award for Outstanding Early Stage Postdoctoral Researchers (RFA-CA-20-015). This mechanism is designed for postdoctoral fellows who do not require an extended period of mentored research and its purpose is to facilitate a timely transition of fellows from their postdoctoral positions to independent, tenure-track faculty positions.
What does this award mean to you?
This award means a lot to me and will help to launch my career as an independent cancer control scientist. It will allow me to gain new experiences and skills in developing and integrating multilevel interventions that target the provider/system level and the patient level in order to increase rates of physician-patient communication about lung cancer screening. 
Do you have tips for other postdocs interested in applying for this award or other external awards?
For career development grants like this one, I would tell other postdocs to start the process early as it will take several iterations until you identify your training gaps, how you will fill those during the award, and how you will apply what you learn to your research aims. I also would recommend that you have as many people review the grant as possible, because it will only strengthen the final product.
If you could meet one scientist, who would you want to meet and why?
Dr. Camara Jones who is a family physician and epidemiologist whose work focuses on naming, measuring, and addressing the impacts of racism on the health and well-being of the nation. As the former president of the American Public Health Association she embodies a public health scientist who has dedicated her career to addressing multifactorial issues that contribute to the differences we see in health that should not exist.