Orrianne Morrison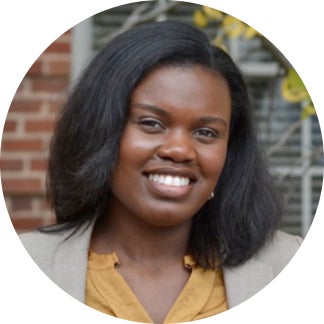 2015 Hoyas for Science Recipient
M.S. in Physiology and Biophysics – Complementary and Alternative Medicine
Tell us about yourself! What is your academic/professional background and what led you to pursue graduate school in your field?
Prior to enrolling in the Master's in Physiology and Biophysics (CAM) program, I had the privilege of sharing my passion for science as a middle school teacher in Henry County, GA.  While teaching was an amazing opportunity for me to serve my community, I desired to take my education a step farther and eventually pursue professional degrees. Given my interest in the field of medicine and my openness to different ways of thinking about health and wellness, I decided to begin the next phase of my education by gaining a more in-depth understanding of human physiology and the science behind complementary and integrative medicine, to which I was initially introduced through the regular use of herbal medicine within my family.
How did you hear about us and why did you decide to study at Georgetown University?
I learned about the CAM program through a pre-med advisor at Spelman College. I decided to attend Georgetown University because of its excellent reputation and research opportunities.
What are your current academic foci/research interests?
As a research fellow in the Division of Viral Products at the Food and Drug Administration, I contribute to HIV structural studies. These studies focus on mutations within the viral envelope, which facilitates viral entry into host cells. Previous studies have identified two pathways of mutations within heptad repeat one (HR1) and heptad repeat two (HR2) of gp41, which is one of the two components (the other being gp120) that make up the envelope protein.  The aim of this research is to further understand the implications of gp41 and gp120 mutations on the structure and stability of the JRCSF strain of HIV.
We see that you were a Hoyas for Science recipient. Could you tell me a little about that process and some advice to other students who may be considering trying to get scholarships? 
Applying to the Hoyas for Science Scholarship requires that applicants write an essay explaining how they meet its criteria. In addition, students must also demonstrate academic achievement. It is a very straightforward process that goes one step beyond filling out the program application.
One of the most important factors in obtaining scholarships, in addition to academic merit, is simply the willingness to embrace the process of applying. There are numerous scholarships waiting for qualified applicants to simply apply and claim them. Beyond this initial decision, it's important to be very thoughtful and deliberate about the information you wish to convey.
What advice would you give prospective students who are looking to apply to your program?
Individuals who are interested in applying to the CAM program should be ready for a very rigorous and eye opening positive experience. It is important to bring an open mind and heart, and be prepared to learn as much about yourself as you will about physiology and the science of Complementary and Integrative Medicine (CAM). Most of all, come in with the understanding that the supportive faculty, staff, and the nurturing environment of the program will allow you to soar as high as you wish if you are willing to put in the work.
Also, the summer practicum opportunities are a major highlight of the program, students have the opportunities to work with top researchers in the field of CAM, and at prestigious institutions such as the National Institutes of Health (NIH), which is where I completed my practicum. While there, I worked in the Office of Cancer Complementary and Alternative Medicine (OCCAM) of the National Cancer Institute and assisted in literature reviews. This is a preliminary part of the important work of creating funding opportunities to address knowledge gaps.
Overall, the CAM program is a great program, and I wish future applicants the best of luck!