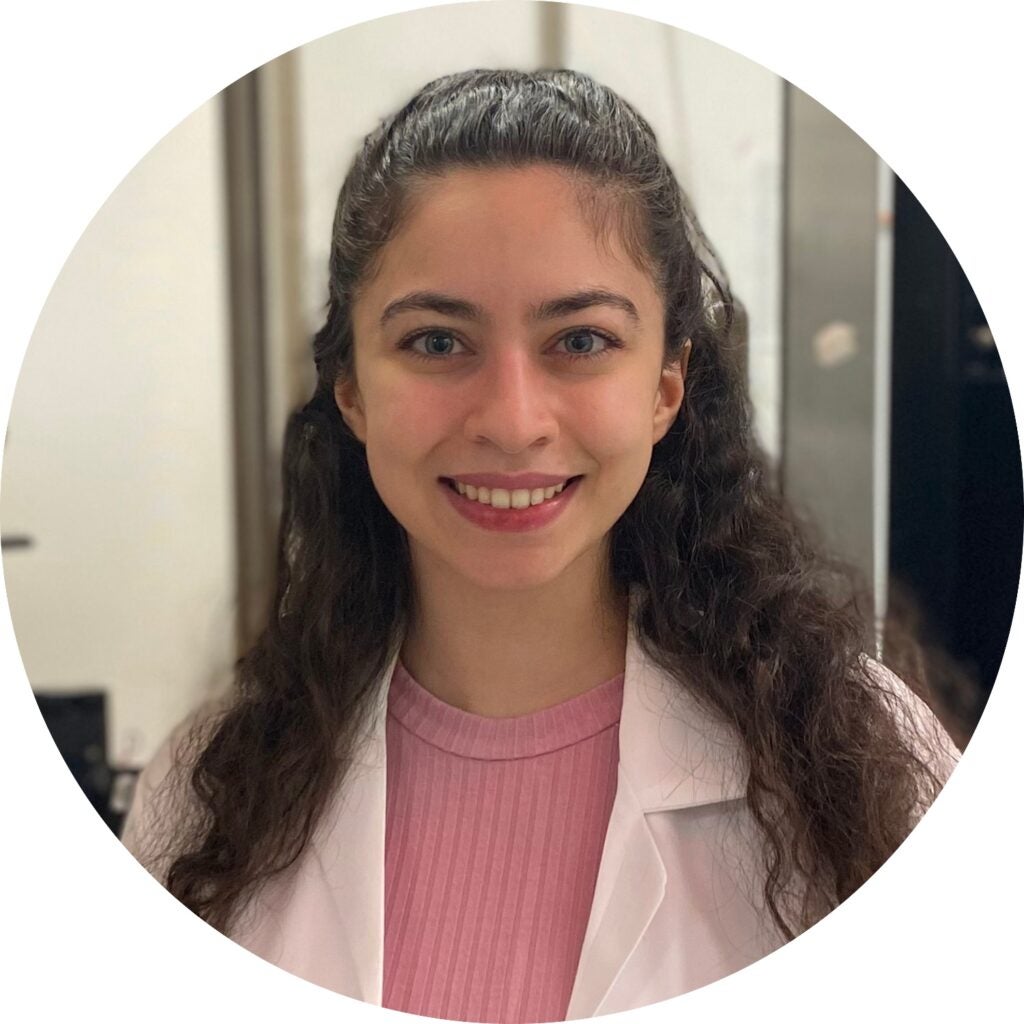 NINDS Ruth L. Kirschstein National Research Service Award (F30)
About Michel
Michel is a fifth-year M.D./Ph.D. student in her third year of the Interdisciplinary Program in Neuroscience. A Lebanese-American woman from Brooklyn, New York, she earned a B.S. in Chemistry from Brooklyn College, part of the City University of New York system, before applying to the M.D./Ph.D. program at Georgetown University.
Tell us about the award you received.
I was awarded the National Institute of Neurological Disorders and Stroke (NINDS) Ruth L. Kirschstein National Research Service Award (F30) for dual degree students. This is a predoctoral fellowship that will fund my training and stipend for the last four years of my M.D./Ph.D. program.
What is your research focus?
I find neurological and neuropsychiatric disorders fascinating. My main research focus has been movement disorders. I began studying Amyotrophic Lateral Sclerosis (ALS) under Dr. Mariana Torrente at Brooklyn College using an epigenetic approach in yeast ALS models and human fibroblast samples from patients.
Under the mentorship of Dr. Rebekah Evans and Dr. Stefano Vicini at Georgetown, I am completing my thesis work in the Evans Lab characterizing the circuit between subregions of the pedunculopontine nucleus and the inhibitory basal ganglia nuclei that is disrupted in patients with Parkinson's disease. Quite recently, my grandma passed away after being diagnosed with ALS. It feels like this path was always meant for me. I hope my current and future research efforts help advance therapeutics to provide better outcomes for patients with these incurable complex diseases.
What does this award mean to you?
Sometimes, I feel imposter syndrome, as I am sure many do. I only had two years of research experience before applying to Georgetown's M.D./Ph.D. program. I applied for the neuroscience program even though I only knew life in a biochemistry lab, aside from a summer research program working with Dr. Anita Autry in the Neuroscience Department at Albert Einstein College of Medicine. I strongly knew that research was the path for me.
An important skill to succeed in this field is grant writing. Being awarded this grant helped solidify that I deserve to be here, that my research questions and efforts are interesting, and that I have a future in this field. All the hours put in lab, all the extra meeting times with my mentors, all the support from my family and friends, and all the moments in between were worth it. This is the biggest achievement of my career to this point, so I am proud and extremely appreciative of the recognition and financial support for my continued training.
What faculty member at Georgetown has been central to your growth as a student and researcher?
I have been blessed to have consistently met and worked with amazing women in the health and sciences (including the names I sprinkled in my answers) who have pushed and motivated me to succeed and be in the position I am today.
The mentorship I receive from my PI, Dr. Rebekah Evans, has been central to my growth as a Ph.D. student and researcher. She took me in as a biochemist and helped train me to become an electrophysiologist. Although it was a steep learning curve, she was always patient and encouraging. As a budding neuroscientist and electrophysiologist, I was encouraged to explore my own questions, challenge myself in learning increasingly complex techniques and skills, and present posters and talks at local events and larger conferences. In just two years under her mentorship, I gained a breadth of experiences that helped me grow as a student and researcher. We schedule meetings to discuss my individual development plan where we go over my personal and research goals. I feel that she truly cares about my success and growth.
Importantly, she nurtures a good work-life balance among all lab members which allows me to have the needed time for myself and the initiatives I care about like being involved in the curriculum and social committees making changes to help our education and post-COVID community. I believe a healthy work-life balance helps me be more productive and satisfied with my own research work. I am so lucky to have a mentor that can help equip me with both the technical skills and habits to succeed.
What do you want to do after earning your Ph.D.?
After my Ph.D., I will be completing my last two years of medical school. I see myself holding an academic position at a university like Georgetown one day. I would love to be a PI with my own lab while still seeing patients a few days a week. The idea of treating patients but also being involved in the research that can improve their prospects is what motivates and drives me.
What's your advice for other students interested in applying for this award or other external awards?
My advice for students is to use Georgetown resources available to you, including your fellow classmates! Upperclassmen were critical in the preparation of my application. Reading the grants of other successful awardees, listening to their advice and experience, and soaking in all the pep talks when I would feel overwhelmed or stressed really helped me get to the finish line.