Auriel Moseley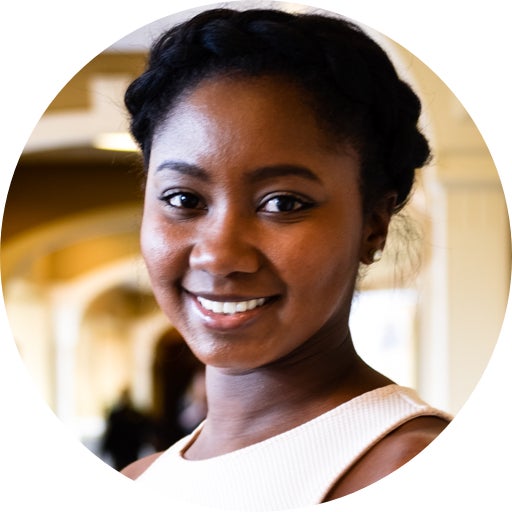 2017 Hoyas for Science Recipient
About Auriel
Auriel Moseley is from Rome, Georgia, and earned her Bachelor of Science in Exercise Science at Georgia State University in downtown Atlanta, Georgia. She is currently pursuing an M.S. in Biochemistry and Molecular Biology at Georgetown's Biomedical Graduate Education.
Why did you choose Biomedical Graduate Education at Georgetown University?
I chose Georgetown University for several reasons. I wanted to challenge myself to obtain new experiences. I have lived my entire life in Georgia, so moving away from my family and friends to Washington D.C has been one of the biggest steps I've taken out of my comfort zone. I liked that this particular program focused on tailoring each student's coursework to fit their personal career goals as opposed to a "one size fits all" general semester format. This program is only a year-long with an internship included, whereas the other schools I looked at were 2-3 year programs; it would be the fastest way to get me to my career goals. The alumni network is very strong which adds to the value of a Georgetown degree. Finally, upon visiting the school before my final decision, I met with Dr. Cynthia Rosenthal, Dr. Abigail Montero, and other current students who all made me feel extremely welcomed and informed.
As a Hoyas for Science Scholarship recipient, you were selected because your application "demonstrated a commitment to biomedical research and graduate studies at the Masters' level." What do you hope to accomplish here at Georgetown and/or what is your interest in biomedical research or graduate studies?
I hope to gain an understanding of how various biochemical processes contribute to the pathology of cancer and autoimmune diseases. By gaining experience in advanced lab techniques, I want to contribute to the ongoing research and development of new/improved therapies to help those currently suffering.
What is your life motto for overcoming challenges and/or supporting diversity and cultural understanding?
My life motto is to never dwell on things I can not change. Life is all about how you make it out of challenging situations, so I always try to look for the lesson that can be learned. With this outlook, I will continue to evolve into the best version of myself.
In order to support diversity, we must all learn to respect each other and the things that make us different.