Bria Bailey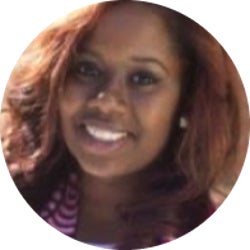 2015 Hoyas for Science Recipient
M.S. in Physiology and Biophysics – Complementary and Alternative Medicine
What undergrad school are you from, and what was your major?
I graduated in May 2015 from Spelman College in Atlanta, Georgia with a Bachelors of Art in Bioethics/ Pre-Medicine.
Why did you apply to Georgetown University?
I applied to Georgetown University because I wanted to continue my education in the sciences and I knew that GU had a plethora of opportunities and graduate programs that could match my interests as a future health care professional.
What are you studying here at Georgetown University?
I am currently a candidate to receive my Masters in Physiology and Biophysics and am part of the Complementary and Alternative Medicine (CAM) program.
As a Hoyas for Science recipient, you were selected because your application to Georgetown "demonstrated a commitment to biomedical research and graduate studies at the Masters' level." What do you hope to accomplish here at Georgetown and/or what is your interest in biomedical research or graduate studies?
As a member of the CAM program I hope to gain a better understanding of Bioethics through the CAM modalities, specifically as it pertains to pediatric clinical practice. In the year following graduate school, I plan to do a year of research at the National Institutes of Health (NIH) focusing on health disparities in the African American communities. I have a strong interest in becoming a neonatologist and plan to attend medical school and align myself to make a positive impact as a biomedical physician.
Please share an interesting fact about yourself.
An interesting fact about me is that I used to be a competitive swimmer for 12 years and still swim as a recreational hobby.