Giselle Burton Sojo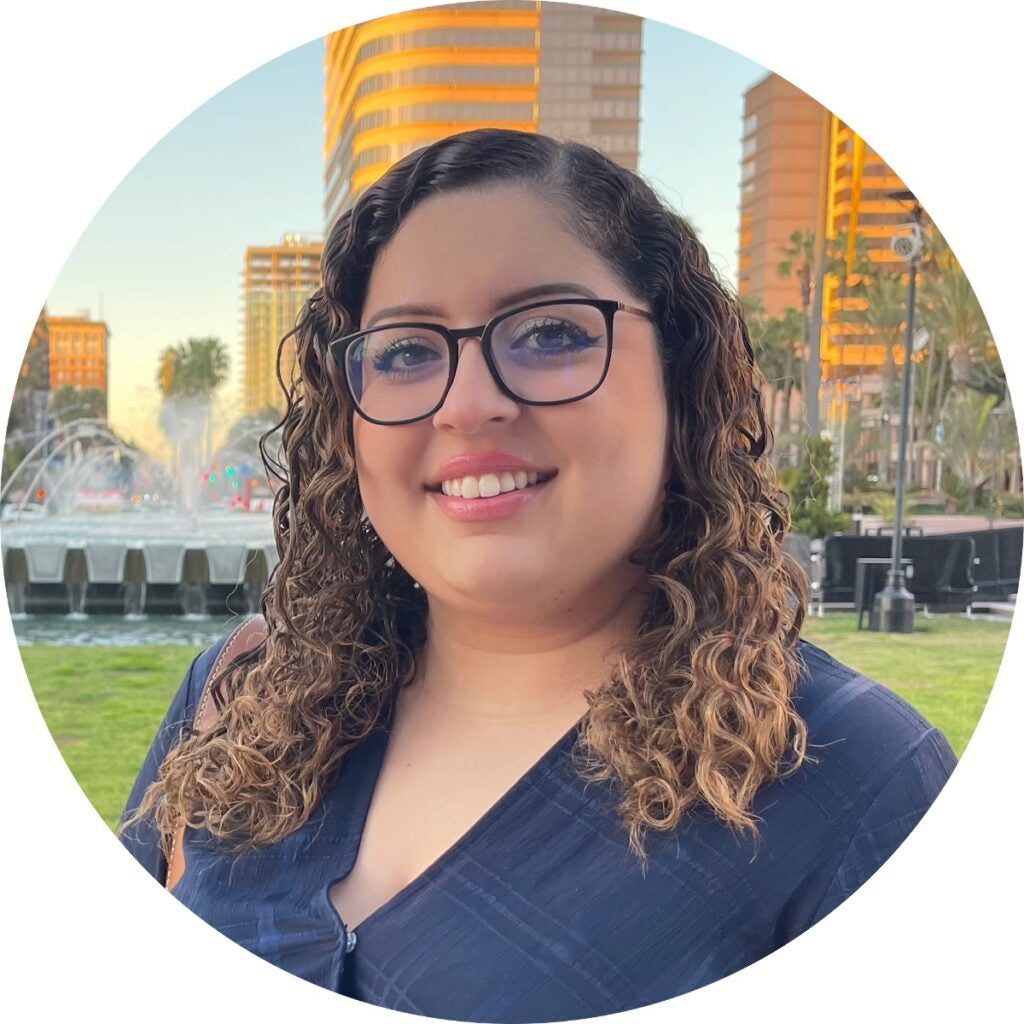 GU IMSD Fellow
2022 Cohort
The Georgetown University Initiative for Maximizing Student Development (GU IMSD) is designed to develop a diverse cadre of doctoral scholars prepared for careers in the biomedical scientific workforce. Our incoming GU IMSD Fellows share their interests, career goals, and advice for aspiring Ph.D. students.
About Giselle
Giselle Burton Sojo (she/her/hers) is pursuing a Ph.D. in Tumor Biology at Georgetown. She previously earned a Bachelor of Science in Biological Sciences from the University of California, Irvine.
How did you become interested in your area of study?
I am interested in researching the tumor microenvironment, specifically the means by which tumor cells are able to evade the immune system, and would like to explore the ways that cancer is able to either hijack or hide from the body's main protection mechanisms. I became interested in this area because in the past I have done both molecular and immunological studies on cancer progression in various labs and have seen that this is an unavoidable connection when studying cancer and metastasis. This is also a huge contributor to treatment efficacy and recurrence of cancer once a patient has had a combination of treatments, so I would like to explore the way this relationship contributes to a patient's outcome.
What do you hope to gain from the GU IMSD program?
I hope to be a better leader within a project as well as being able to make informed decisions on the direction a project should proceed in based on current data and potential hypotheses. I am also hoping to gain the interpersonal tools that help create an open and judgement-free environment for under-represented groups that are interested in starting a career in research but need support and experience.
How have your previous experiences or your background influenced your personal or professional development, interests or career goals?
When I began my career in science, I was coming out of some very difficult classes and understood that while I didn't look the best on paper, I was excited about research and eager to study cancer. After many applications, I met with a graduate student who recognized my passion and gave me a chance to prove myself on her project. Her support and mentorship helped both my technical and thinking abilities and allowed me to get a great job right after graduation, as well as being the foundation for my position now as a graduate student. That opportunity has also made me understand the importance of mentoring and pushed me to want to become a mentor for future students that might be struggling or unsure about similar decisions.
How has mentorship impacted your educational/career journey?
Mentorship has allowed me to be able to have a career in this field and gave me the hope that I was more than my grades or how I presented on a piece of paper. I have had amazing opportunities because of the mentorship that I received during my undergraduate career, and have seen people benefit the same way and also struggle to advance because they didn't have the same support that others have. I have loved having mentors and also have enjoyed being a mentor, so it is definitely something that has played a very important role in my career and educational journey.
What do you want to do after you complete your doctoral studies?
After obtaining my Ph.D., I would like to continue in academia and studying cancer and the tumor microenvironment to contribute translational data that may have clinical significance and help develop treatment options. I am also hoping to one day have my own lab that focuses just as much on providing an open and welcoming environment for people as it does on research. Whether the student is just starting out in research and is unsure what options they have, or has been in the field for a while but needs a different type of experience to inform their decision on whether or not they continue, I would like to help with that process.
What advice do you have for applicants who want to pursue doctoral programs?
I think that it is important to be very clear on why you are pursuing a Ph.D., both to yourself and who you interview with. When writing your personal statements and during interviews, it is very helpful to have a specific reason for applying and to be able to explain how this specific training is important for your future career goals. It not only helps convince the committees that you are a great addition to their program, but it also helps you remind yourself of why you are in this field and can be motivation if the application process becomes difficult.
Is there anything else you want others to know?
Just because you don't have the perfect grades doesn't mean you can't be successful. Doing well in classes is important, but an average or below-average GPA isn't going to stop you from doing well in this field. I believe that being passionate and willing to learn is just as good of an indicator for success in research. I was given my first position in a research lab when I didn't have the best grades, but my mentor believed that my passion for research and learning was what would allow me to do well with her project and beyond.