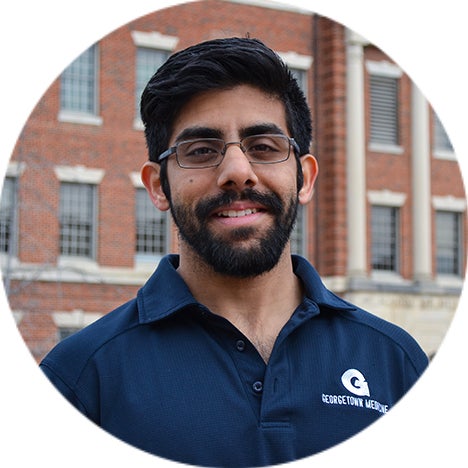 NCI Ruth L. Kirschstein National Research Service Award (F30)
---
About Irfan
Irfan is a 5th-year MD-PhD candidate in the Tumor Biology program. His current home town is in Columbia, MD but he grew up for 17 years in San Diego, CA before moving to Maryland. Irfan started off at the local community college before transferring to the University of Maryland College Park where he received a bachelor's of science in Microbiology. Following this, Irfan spent 2 years at the National Institute of Aging through the NIH Postbaccalaureate Intramural Research Training program before beginning his graduate studies in Tumor Biology at Georgetown University School of Medicine.
Why Georgetown University for your PhD?
Through my undergraduate and post-baccalaureate research experiences I was exposed to how predisposition for cancer can be brought about by a mutation in the smallest of proteins (in this case it was a helicase, a protein that unwinds DNA during replication). As I interacted with leading cancer research scientists in their field at the NIH, I realized the various opportunities to study cancer growth, especially in the treatment aspect. This was why I was drawn to Georgetown University. The ability to receive training and advice from well known and regarded clinicians and research scientists at the internationally recognized Lombardi Comprehensive Cancer Center is an experience I wanted to attain. 
What is your research focus? What sparked your interest in it?
My research looks to understand how cellular senescence impacts tumor growth and metastasis. Senescence is a state of cell cycle arrest that can occur anytime starting at the embryonic state to full adult. It occurs in order to prevent cells from becoming malignant. In essence, as we age we get more senescent cells throughout our body and studies have shown that numerous human diseases (i.e. Alzheimer's, Parkinson's, heart disease, diabetes, pulmonary fibrosis, and even osteoarthritis) have been linked to cellular senescence. The context in which a cell is undergoing senescence (i.e when and where it is occurring) dictates whether it has beneficial or detrimental effects. Beneficial effects of senescence are seen in promoting proper embryonic development, efficient wound healing, and suppressing tumor growth. Detrimental effects are seen in decrease immune cell effects, promoting tumor growth and a heightened inflammatory state. It is this double-edged sword effect of senescence towards cancer that sparked my interest in studying this topic and I hope to further understand and elucidate this unique phenomenon throughout my PhD. 
What is the name of the award you received? Please provide a brief description about the award
The award I received is the Ruth L Kirschtein National Research Service Award (NRSA) Individual Fellowship (F30). The F30 fellowship promotes the integration of both clinical and research training of predoctoral students that are looking towards a career as physician-scientists. The application in itself puts forth a plan that integrates research and clinical concepts along with a dissertation project that looks towards further dissecting health-related fields. The goal of the F30 is to develop the applicant's potential in becoming a competent and productive physician-scientist. 
What does this award mean to you?
It is a great honor to receive this award! For one, it provides validation that my dissertation research project is novel and feasible as it is reviewed by experts in their field. Secondly, along with providing tuition and stipend for the rest of my PhD, it also offsets all medical school-related costs along with a stipend during the clinical training years of this lengthy 8-year program.
Do you have tips for other students interested in applying for this award or other external awards?
At first, it can seem like a very daunting task to complete an entire grant application. But if you take enough time and plan things out accordingly, you can finish the award application within 2-3 months. And do not feel nervous to ask other students who have applied for this award for their input and advice. We are always willing to help out because we are all in this struggle together. And most importantly, always make sure to discuss ideas with your mentor, thesis committee, or other faculty because they have been doing research even longer and they may have the simplest of ideas that we as trainees are not even thinking about!
What faculty member at Georgetown has been central to your growth as a student/researcher?
It would have to be my thesis mentor, Dr. Anton Wellstein. Any growth I have had, whether, intellectual, technical, or personal has been brought about through his guidance. As I am going through my PhD, I realize that a lot of the advice he has given for experiments or in analyzing data and results can be applied to things that can happen outside of the lab. I guess that is why it is called the Doctor of Philosophy as throughout one's training you attain a new outlook on life.