J. Vivian Dickens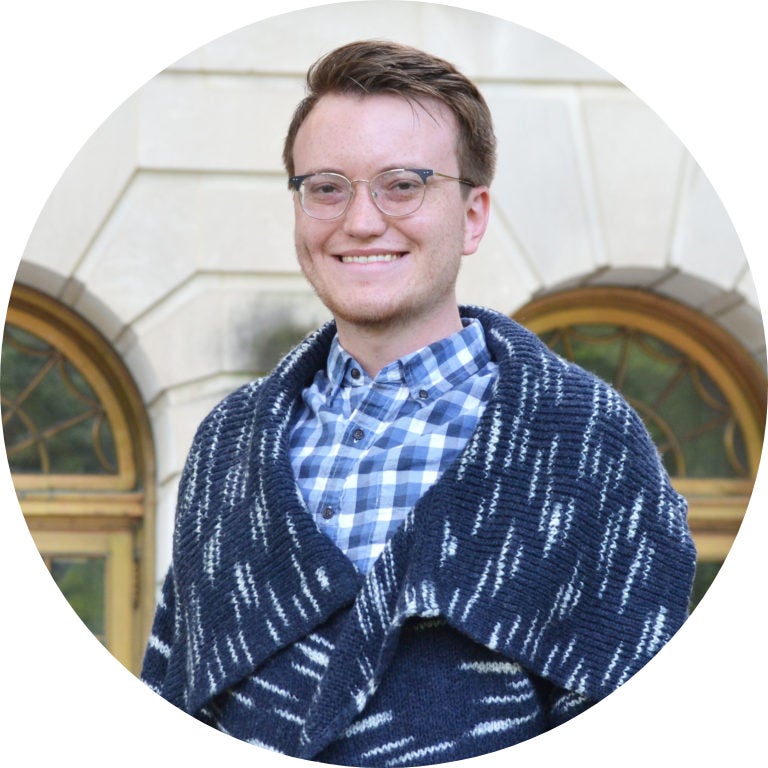 2019 NIDCD Ruth L. Kirschstein National Research Service Award (F30)
About Vivian
Vivian is a 4th year MD-PhD candidate in the Interdisciplinary Program in Neuroscience. He is from Atlanta, Georgia and studied linguistics at the University of Georgia prior to matriculating to Georgetown. Recently, Vivian was awarded a 5-year predoctoral fellowship (F30) from the National Institute on Deafness and Other Communication Disorders (NIDCD).
Why Georgetown University for your PhD?
Georgetown's Interdisciplinary Program in Neuroscience provides exceptional, holistic training in neuroscience and supports a vibrant community of scholars. When I interviewed, I was confident that I would receive strong interdisciplinary training spanning cellular and cognitive neuroscience as well as practical skills necessary for success in academia, such as grant writing. I was also struck by the genuine dedication that faculty have to the professional growth and personal well-being of students. Given my particular interest in language disorders, I was especially impressed by Georgetown's strong teams of scientists dedicated to the neurobiology of language.
What is your research focus? What sparked your interest in it?
I study reading deficits in stroke survivors under the mentorship of Drs. Peter Turkeltaub and Rhonda Friedman. 1 in 5 stroke survivors in the US live with persistent language impairment, and most of these patients also struggle with reading. The overall goal of my research is to clarify the neuroanatomical and cognitive bases of post-stroke reading deficits. In the future, this work may facilitate improved predictions of reading deficits in stroke survivors and targeted treatments. My interest in language began as an undergraduate linguistics student. I am excited to integrate and develop my training in linguistics, psychology, and biology in order to improve our understanding of reading, an essential skill in contemporary society.
What is the name of the award you received? Please provide a brief description about the award
The NIDCD awarded me a Ruth L. Kirschstein National Research Service Award for MD-PhD students (F30). The F30 is a predoctoral fellowship that facilitates integrated clinical and research training for future clinician-scientists in dual-doctoral degree programs. An F30 from the NIDCD is specifically for supporting future clinician-scientists skilled in research on normal and disordered processes of hearing, balance, taste, smell, voice, speech, and language.
What does this award mean to you?
I am thrilled to have my proposed research and training plan pass rigorous peer review at the national level and to have NIDCD invested in my training. This award will provide tuition and stipend support for the remainder of my predoctoral training in the MD-PhD program. I am beyond grateful for this F30.
Do you have tips for other students interested in applying for this award or other external awards?
Developing an exceptional training plan is just as important as the research itself. Clearly articulate your story and goals and tie these directly to the research. Meet regularly with advisors. Embrace iterative revision of each component of the application. Read previous successful applications to help guide you. Georgetown's RDS and OSR offices are critical resources–many Georgetown students have applied to and received NIH fellowships. Reach out to RDS as soon as possible when planning to apply.
If you could meet one scientist, who would you want to meet and why?
I would like to meet Alan Turing (1912-54), who was an English mathematician. His work on the theory of computation laid the theoretical foundation for the modern computer and proved to be a landmark contribution to cognitive science. In 1952, he was arrested for homosexuality, which was illegal in Britain, and he was convicted of "gross indecency." He accepted a sentence of chemical castration to avoid prison time. In 1954, he died from an apparent suicide. Queen Elizabeth II posthumously pardoned his conviction in 2013. It would have been an honor to meet him and discuss his life and seminal work.