John DiBello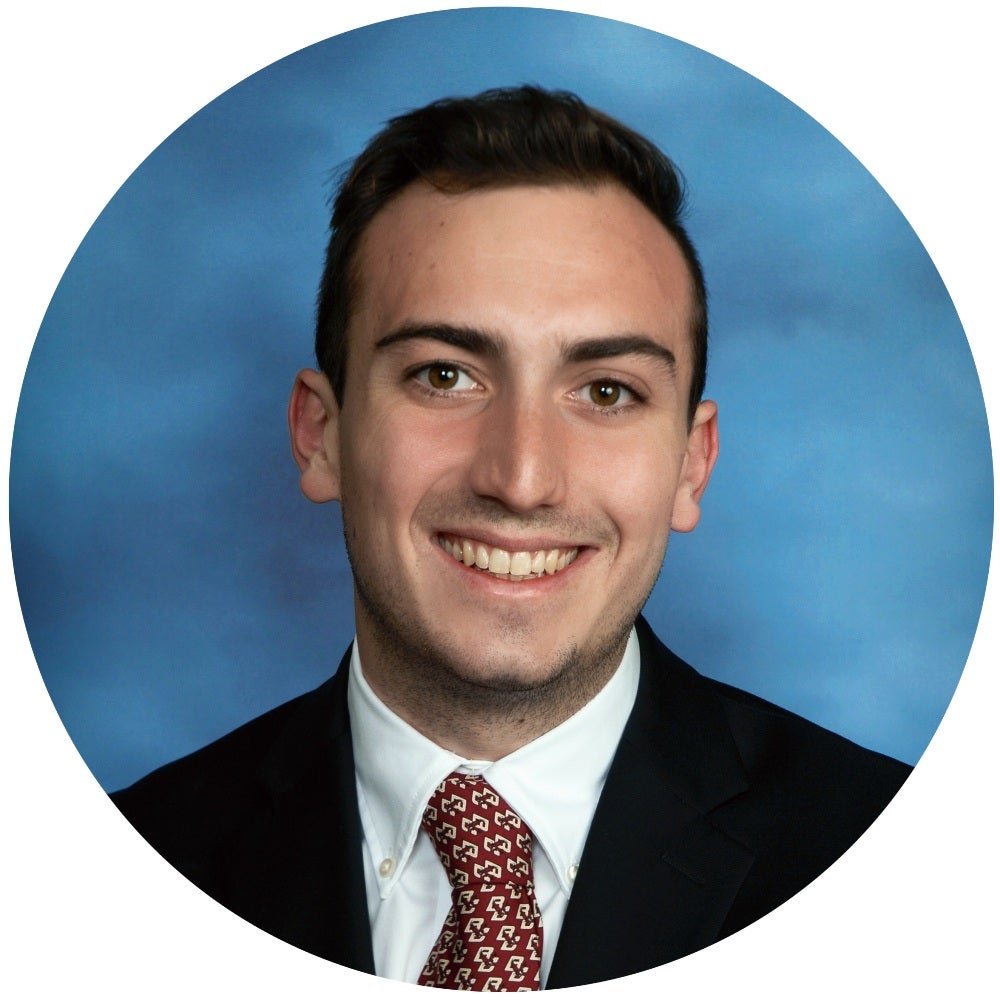 2020 Ignatian Hoya Recipient
About John
John DiBello is from Lynnfield, Massachusetts. Before coming to Georgetown's Biomedical Graduate Education, John studied at Boston College where he earned his Bachelor of Science degree in Biology and Global Health & Medical Humanities.
Why did you choose Biomedical Graduate Education at Georgetown University?
As I consider a career in medicine and global public health, I chose Georgetown University because of the rigor of the coursework within the School of Medicine as well as the opportunity to grow in knowledge and experience as a community health researcher, which I have pursued within the Community Health Division as a junior researcher.
What do you hope to accomplish here at Georgetown and/or what is your interest in biomedical research or graduate studies?
My hope throughout this year of study is to explore the possibility of diving deeply into the human experience through biomedical coursework while also recognizing the social aspect of human life and human care. I have entered an intense year of coursework during a year in which our world struggles to cope with the COVID-19 pandemic as well as the resulting economic devastation and psychological isolation.  While it can feel selfish to spend most of my time learning in the classroom, rather than engaged in some sort of direct service, I believe this year is an important step in building the necessary knowledge such that I might be of more useful service for and with others in the years to come. 
What community service activity has meant the most to you?
During my undergraduate semester abroad and the summer that followed, I worked as a research fellow at Universidad San Francisco de Quito Medical School in Quito, Ecuador. While I had previously engaged in community service through nonprofits and faith-based groups at Boston College, the work provided a new understanding of what my own vocation might involve. While my assigned tasks included developing survey tools, administering interviews with patients, and processing data, the work was rooted in trusting relationships. Integrated into many of the activities of a community health center, I received the unique opportunity to facilitate the elderly social/exercise club for older community members. During the summer that followed, I worked with local medical students to start new groups for adolescents, rooted in ideas of positive youth development and gender equity, at four clinics throughout the valley outside Quito. Through building friendships with patient populations and providing spaces for positive interactions between community members and clinical staff, we participated in what one of my professors deems "participatory research" wherein patients and staff work together to pursue common research interests and outcomes.
For the past few months at Georgetown, I have been humbled to participate in research structured in a similar way. Under the direction of Dr. Kim Bullock, we are engaged in relationships with community service providers and advocacy groups within the Intellectual and Developmental Disability (IDD) community. Countless Zoom conversations with IDD advocates have welcomed me into a new community during COVID-19 where we discuss the failure of our systems to adequately respond to the health needs of people with IDD as well as the many community assets that have facilitated resilient community responses.
The work provides a glimpse into my future career where I will bring biomedical knowledge into direct service with patients each day while also recognizing that we belong to larger communities in need of genuine dialogue and thoughtful change.