Kaela Singleton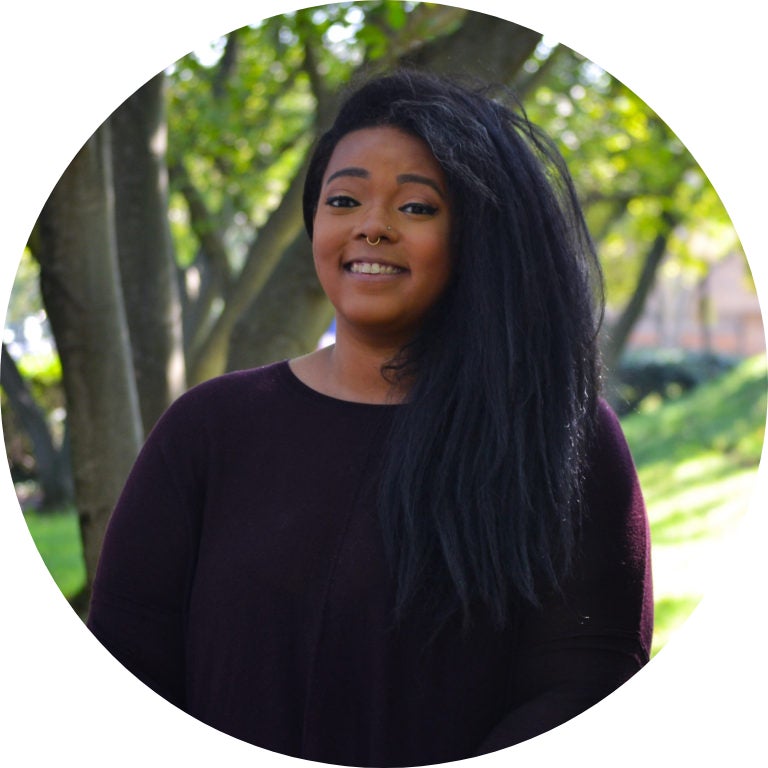 2018 NIH Blueprint Diversity Specialized Predoctoral to Postdoctoral Advancement in Neuroscience (D-SPAN) Award (F99/K00)Recipient
About Kaela
Kaela Singleton is a 5th-year PhD candidate of the Interdisciplinary Program in Neuroscience at Biomedical Graduate Education (BGE). She was born at Fort Hood in Killeen, Texas but raised in Grayson, Georgia. 
What made you choose Georgetown University for your PhD?
I started grad school right out of undergrad and went to Agnes Scott College, an incredibly small, all-women's liberal arts school. I knew I thrived in smaller class/working environments that are open with close, interpersonal relationships so I wanted that same feel when looking for grad programs.
I chose Georgetown because it fit that mold – for two main reasons. The first and most important to me was the Interdisciplinary Program in Neuroscience (IPN) community. The program felt like a family, where students supported and encouraged one another.
In terms of faculty, I felt an intellectual connection with the scientists that would go on to be my PIs, Maria Donoghue and Elena Silva. During my interview, it seemed like the faculty knew about more than just their students. They were invested in the progress of each student and cared about their well-being.
The second reason I chose Georgetown University was for the career opportunities. I knew I would need a job after graduation whether I'd be in academia, industry or science policy so I needed a place with strong ties to various scientific communities. All the students I spoke to at my interview said they were encouraged to explore career options and had ample support to explore their interests. The revamping of the Career Development Center by Caleb McKinney is a real testimony to that goal.
Collectively those two things really cemented for me that IPN at Georgetown was the place for me.
What is your research focus and how did you become interested in it?
My research focuses on understanding the molecules that generate a precisely organized and properly functioning brain across species.
My interest in neuroscience, in general, started in the 7th grade during a science outreach event hosted by the University of Georgia. From there I knew I was interested in the brain and how it worked.
My love for neural development, however, came much later. In college, I was awarded an NIH BP-ENDURE Fellowship where I conducted research at Georgia State, Emory and Vanderbilt University. While participating in that fellowship, I excelled in the field of neurodevelopmental disorders and thrived on the problem-solving nature of molecular neuroscience.
Thus when applying to grad school, I wanted the opportunity to learn the foundations of neural development. I think a great deal can be learned from the early steps of development – if we can understand how the brain forms we can understand how it falls apart during aging and degeneration.  
What is the name of the award you received, and can you briefly describe it? 
It is quite a name.
NIH Blueprint Diversity Specialized Predoctoral to Postdoctoral Advancement in Neuroscience (D-SPAN) Award (F99/K00).
The F99/K00 is a transition award. It funds the last two years of my graduate work at Georgetown then upon selection of a postdoctoral fellowship lab, the grant funds the next four years of my training at a new institution.
What does this award mean to you?
Truthfully, this award means quite a lot to me. My goal as a scientist and in life is to be the person I needed when I was younger. As a queer, multiracial woman of color in science, it can be incredibly isolating. So to me, this award is more than funding for the next phase my life – it's an opportunity to train, educate and mentor students who look like me, grew up in small towns as I did, and encourage them to pursue their dreams.
Through my own fellowships designed to promote diversity in neuroscience, I found a sense of belonging in the scientific community. With the help of invested mentors, I've learned so much about myself and about neuroscience research. Through these supportive interactions, my insecurities about becoming a capable neuroscientist are quieted and replaced by hope and confidence. Through diversity, I learned that representation matters. The physical act of seeing someone who looks like you achieve your dreams can and will spark ambition, creativity, and curiosity. I thrive on those interactions and am motivated by the ability to be a leader who guides young scientists to achieve their goals.  I have discovered that diversity encourages you to think critically and consider new perspectives. The ability to attack challenging questions from a unique perspective is enhanced when students feel included and supported. And my experiences in inclusive training environments contribute to my past and present ambition to share these feelings with students.
Since joining IPN, I have worked to be both a leader and mentor, in the hopes that my presence sparks ambition, and allows future scientist to see their dreams as achievable.
The opportunity to learn from the very best scientist without the limitation of funding is rare. I am sincerely honored to be a recipient of this award and my success speaks not just to my personal achievements but to the mentorship of my current and former PIs, encouragement from faculty members like Kathy Maguire-Zeiss, Patrick Forcelli, and Mark Burns and the immense amount of support I've received from Georgetown and IPN students.
For me – it's more than anything I could have dreamed of in that 7th-grade science class.
Do you have tips for other students interested in applying for this award or other external awards?
Call your program officer! Read the FOA, ask questions and keep trying! Reach out to older students, people with funding, and professors for guidance.
If you could meet one scientist, who would you want to meet and why?
The real scientists I'd want to meet are the ones just starting out. The first and second graders who are just learning about science and fascinated by chemistry. The kids from small towns and bad neighborhoods who think the idea of ever being a "true" scientist is beyond their reach. Undergrads from small colleges who think you need straight A's to be the next big researcher or find the next big thing. Kids struggling to find their identity as a scientist and need a mentor or a friend.
I want to meet the people who will become the future of science, to show them that their dreams are possibilities, to encourage them and introduce the idea that anything is possible if you work hard enough.