Lismary Real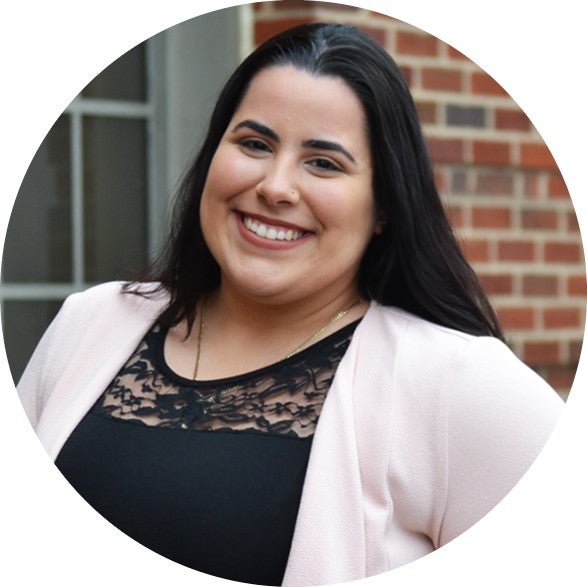 MS in Biomedical Science Policy and Advocac

y
About Lismary
Lismary is a student in the Master's in Biomedical Science Policy and Advocacy program at Biomedical Graduate Education (BGE). She's excited to be at Georgetown and hopes to use this degree to help her accomplish her plans for the future. She plans to enroll in medical school and eventually start a nonprofit that helps individuals in the United States with little access to healthcare!
What made you choose Georgetown University for your MS degree?
Ever since I was in high school I have always wanted to come to Georgetown University, but never thought it would be feasible for me. When I was looking into MS degrees, I wanted a program that taught me more than just science, but something that could inspire my future plans. When I learned about the BSPA program, I thought it would be a perfect fit for me and everything I wanted to accomplish.
What do you hope to do with your degree?
I strongly believe that it is important to help everyone you can, especially, those who are suffering here in our own backyard, in the US. My immediate plans are to attend medical school and become a doctor. Eventually, I'm hoping to start my own nonprofit organization where I can help individuals in the United States that do not have access to healthcare. I also hope to become involved in advocating for them and influencing policy changes that will help change and improve their living and health conditions.
What sparked your interest in the biomedical field?
Growing up, science and math were always my favorite subjects at school and I knew I wanted to find a profession that involved both of them. I graduated from a technical high school where I entered their nursing program and worked in different health facilities. During my time there, I had many different patients who taught me many life lessons as I cared for them. As much as I enjoyed my time with them, part of me always felt like I wanted and needed to do more for them than what I was capable of. This sparked my interest to pursue an MD degree, which will grant be the ability to do so much more.
Which language are you most interested in learning?
One of my favorite things to do is travel to the world, and experience different cultures. My current obsession is Greece. Greek is such a beautiful and complex language and has led to the creation of many other languages. I would love to become fluent in Greek so when I travel to Greece I can have conversations with the locals and make connections with them, which could lead to lifelong friendships.
If you could time travel, where would you go?
If I could time travel I would go back to the 1920s. I think this time period was the beginning of so many changes for women in the US, from gaining a voice and freedom to vote to not behaving "ladylike" and being part of the jazz era where they were able to dress more freely. I would love to be a voice and influencer of this era, to help encourage more women to stand up for themselves, obtain their freedom and pursue their goals.