M. Heath Patterson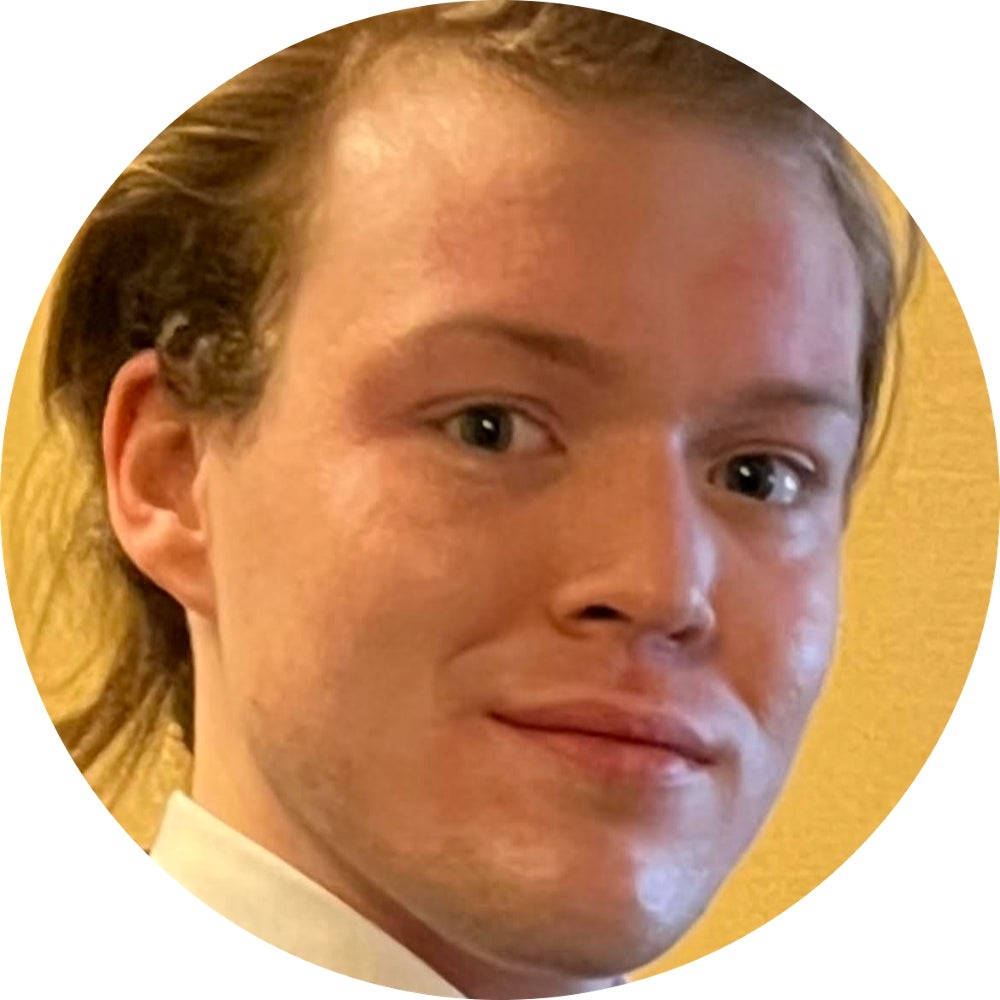 2022 Hoyas for Science Recipient
About M. Heath
M. Heath Patterson is from Collegeville, Pennsylvania. Before coming to Georgetown Biomedical Graduate Education, M. Heath earned an undergraduate degree in Bioengineering from Lehigh University.
Why did you choose Biomedical Graduate Education at Georgetown University?
My goal is to one day deliver excellent and compassionate healthcare; achieving this will require more than profound comprehension of medicine and the human body. Coming from a family plagued with debilitating physical and neurological disorders, I am intimately acquainted with the inherent social, emotional, and financial challenges that chronic illness imposes on individuals and their families. Through my experiences as a caretaker for my mother and younger siblings, a medical assistant, and a patient myself, I have come to understand: (1) health is a function of biopsychosocial factors, where the person is a sum of a mind, body, and spirit, the last of which is uniquely defined by each person; (2) reducing a patient's health to anything lesser than this whole only impedes the facilitation of optimal health and healing; and (3) helping others during their most vulnerable times requires listening with nonjudgmental empathy and patience.
Only through internalizing and practicing a conception of the patient as a whole, rather than a collection of symptoms, and recognizing the goal of a physician to enhance health rather than eliminate symptoms, can one successfully help patients. I chose Biomedical Graduate Education, more specifically, the master's program in Integrative Medicine & Health Sciences at Georgetown University, for the invaluable opportunities to expand both my technical and biomedical skills, as well as integrate a focus on the comprehensive health of the patients.
What do you hope to accomplish here at Georgetown and/or what is your interest in biomedical research or graduate studies?
Complementary and Integrative Medicine (CIM) encompasses all therapies and practices not readily available to patients through our current, primary means of accessing healthcare, which are incorporated into the orthodox practices of medicine as supported by scientific evidence. In the early 1990s, the first research into the public's use of complementary and integrative therapies in the U.S. determined that around 1/3rd of patients utilized at least one CIM modality. Throughout the following 30 years, the number of patients pursuing complementary and integrative healthcare continues to grow, ranging from vitamins, supplements and specialized diets to acupuncture, chiropractic care, and more. The increasing prevalence of these practices was considered a culmination of various factors that contributed to our country's continued grassroots movement toward greater patient involvement in individual health management. Therefore, I find cultivating an understanding of these therapies imperative for me to guide patients towards optimal health and healing – the path varying per person but never removing the patient from the central focus.
More importantly, of those patients pursuing CIM modalities, less than 40% report their use of these practices to the other medical providers who make up their overall healthcare team. That terrifies me for two reasons: (1) we know certain supplements can provide positive therapeutic effects but can also negatively interact with commonly prescribed medications, and (2) patients, for whatever reason, do not feel comfortable disclosing their use of complementary and integrative therapies to their medical providers. Successful healing requires a strong patient-provider relationship – a bond built on trust, strong communication, and reciprocity. The goal, therefore, of complementary and integrative medicine, as defined by The Consortium of Academic Health Centers for Integrative Medicine, is "the practice of medicine that reaffirms the patient-provider relationship as the indivisible foundation for delivering satisfactory healthcare, focusing on the whole person through utilizing practices supported by evidence, with the goal of facilitating optimal health and healing."
Aside from the vast opportunities for personal academic enrichment available at Georgetown University, I look forward to interacting, communicating, and one day collaborating with a variety of healthcare professionals who can enhance my understanding of medicine, health, and humanity in preparation for pursuing a career in medicine.
What is your life motto for overcoming challenges and/or supporting diversity and cultural understanding?
"To be one, to be united is a great thing. But to respect the right to be different is maybe even greater." – Bono