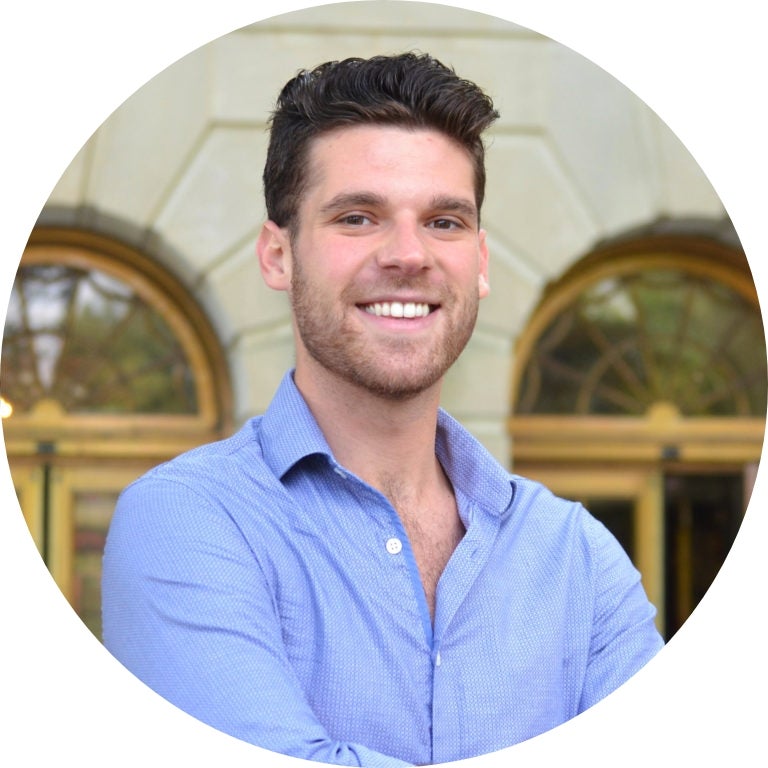 2018 NCI funded F31 National Research Fellowship and 2018 Mistletoe Research Fellowship Recipient
About Max
Max Kushner is a 4th-year candidate of the PhD in Tumor Biology program at Biomedical Graduate Education (BGE). He completed his bachelor's at Vanderbilt University, majoring in Molecular/Cellular Biology, with minors in Corporate Strategy and Communications. During that time, he also did cancer research in the hospital, studying prostate cancer sensitivity to radiation. Max then worked for a short time for Medline Industries in the greater Chicago area, working in product strategy and R&D for wound care devices. 
What made you choose Georgetown University for your PhD?
The researchers at Lombardi Comprehensive Cancer Center span diverse focus areas, and the resources and ranges of experiences are wide. There are many opportunities to explore new research areas, collaborate on projects, and pave an individualized PhD training process with your mentor and thesis committee. The PhD students are friendly, collaborative, and supportive, and the faculty is receptive to the interests and needs of the students. Finally, the curriculum, training sessions, and data presentations help develop scientific communication and presentation skills. All of these were aspects of the program that I initially loved, and have continued to find value in.
Additionally, I love living in DC and continue to explore new neighborhoods, bars, and restaurants. It was important to me that I enjoy not only the program I enrolled in, but also the city in which I live. PhD theses are inherently stressful and time-consuming, so time outside the lab is important and to be enjoyed.
What is your research focus and how did you become interested in it?
My thesis research, under the mentorship of Dr. Anna Riegel, is focused on studying the interaction of transcription factor interaction in the progression of breast cancer. Our lab group studies a protein called AIB1, and I am looking at the protein's interaction with transcription factors and hyperactive co-activators. I love working in this field because it has allowed me to study previously undescribed pathway crosstalk to decipher how cell signaling dysregulation actively contributes to the transformation of normal tissue and spread of metastatic cells.
What are the names of the awards you received, and can you briefly describe it?
NCI funded F31 National Research Fellowship – This NCI funded fellowship "is to enable promising predoctoral students to obtain individualized, mentored research training from outstanding faculty sponsors while conducting dissertation research in scientific health-related fields relevant to the missions of the participating NIH Institutes and Centers. The proposed mentored research training must reflect the applicant's dissertation research project and is expected to clearly enhance the individual's potential to develop into a productive, independent research scientist."
Mistletoe Research Fellowship – This was the first year of this fellowship program, meant to bridge the gap between academia and industry by promoting a collaboration between PhD students and a socially conscious startup. The award came with a $10,000 unfettered research grant for use over the next year, and the opportunity to work with a startup over a year period to address a key knowledge problem within the organization. After participating in a matching workshop in San Francisco, I was paired with Bloomlife, a company developing a wearable device for pregnant women to monitor fetal health.  
What do these awards mean to you?
NCI funded F31 National Research Fellowship: Receiving this grant was a great honor and the culmination of many hours of hard work preparing a 100+ page application.  The award not only funds my stipend, but also allots money for conference travel, technology purchases, and external education that will further my training during my PhD at Georgetown. It was fantastic to find that the reviewers thought my thesis research was impactful and important in the understanding of breast cancer disease biology. It also is an advantage to have on my CV as I finish my PhD and begin to look for a post-doctoral fellowship or job.    
Mistletoe Research Fellowship: This fellowship was really unique and exciting to receive. Unlike most fellowships/grants for PhD candidates, the MRF created a space to do work outside of traditional thesis research, and to use the project management and research skills gained during a PhD and apply them to real-world business problems. I love the prospect of spending the next year doing some work towards improving a product that can quickly impact women and fetal health! The unfettered grant that came attached to the fellowship has allowed me to carry out some expensive and unique experiments that I was able to self-fund!
Do you have tips for other students interested in applying for this award or other external awards?
In both instances, I think it's really important that applicants realize that they are, to some extent, participating in an exercise of salesmanship and marketing. No matter what the grant or fellowship, it is important that the application is clear, concise, and puts forward an interesting and impactful story (regardless of whether you're discussing data for NIH funding or past work experiences for professional development). Furthermore, most of these granting organizations want to see that  they are supporting will use the funding to advance scientific progress, but also the mission of the organization. Also, always overestimate the amount of time required for these applications – they take longer than you think!
If you could meet one scientist, who would you want to meet and why?
I would love to have met Dr. Rosalind Franklin, the scientist who identified the double helical structure of DNA through X-ray crystallography. She led many impactful research studies, and her contributions were generally not recognized until after her death from ovarian cancer. She was not only brilliant but a testament to the gender bias in research that still remains an issue.