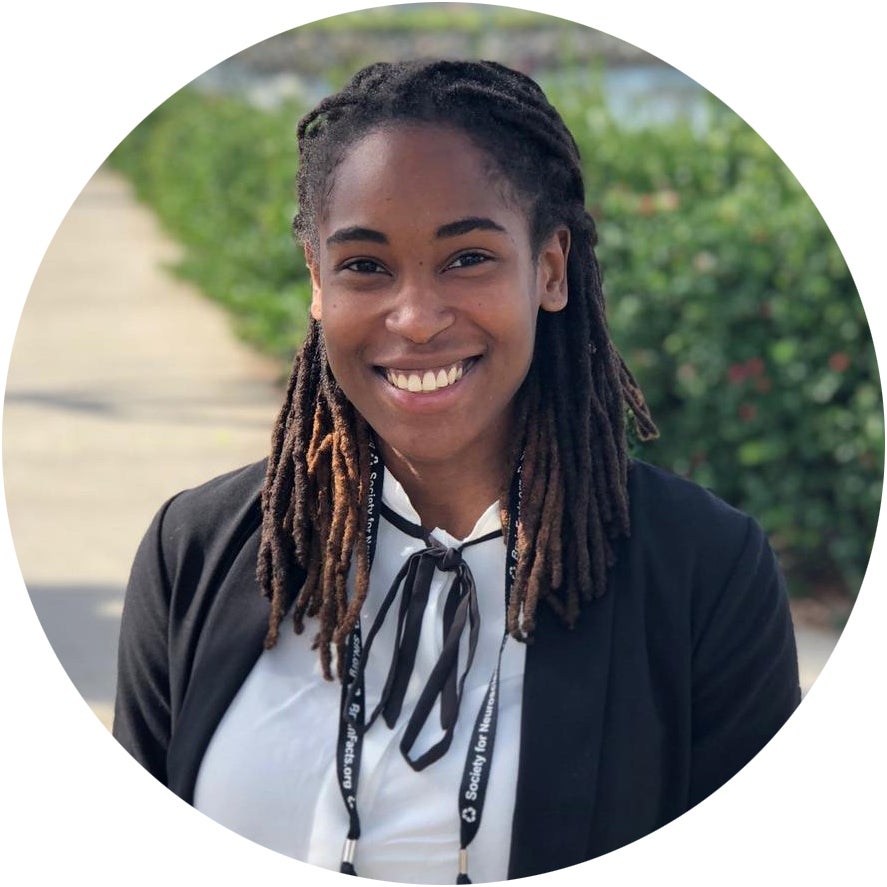 NIH Blueprint Diversity Specialized Predoctoral to Postdoctoral Advancement in Neuroscience (D-SPAN) (F99/K00)
About Nahdia
I am a 5th year PhD candidate in the Interdisciplinary Program in Neuroscience (IPN) at Georgetown University. Before joining the IPN, I earned my BA in Neuroscience from Boston University where I worked in the laboratory of Dr. Howard Eichenbaum. At Georgetown, I am conducting my thesis research under the mentorship of Dr. Bill Rebeck in the Laboratory of Aging and Neurodegeneration. My thesis focuses on understanding the effects of a high-fat diet (HFD) has on the metabolism and the cognition of Apolipoprotein E (APOE) genotypes. 
What made you choose Georgetown University for your PhD?
While exploring neuroscience PhD programs, I knew the IPN was a perfect fit. I was drawn in by the research conducted in the labs and after meeting the professors and students, I greatly appreciated the open and collaborative atmosphere. Overall, I felt like this program would be an ideal place to learn, grow, and complete a PhD and I've continuously been proven correct. The last four years of my PhD have been extremely enjoyable, and I credit that to the continuous support of my mentor and the program.
What is your research focus and how did you become interested in it?
I am researching how and why high fat diet (HFD) increases metabolic and central nervous system (CNS) disturbances and whether these disturbances differ between Apolipoprotein E genotypes and sex. My goal is to bridge the gap between the periphery and the CNS and to understand what specific HFD associated peripheral changes lead to CNS deficits. For many years people considered the brain a separate entity from the rest of the body but recent research has shown that this is not the case. Furthermore, research has shown that the food we eat can have negative effects on the brain. Through this research, I not only get to learn about how diet affects the brain but also get to apply my knowledge to my daily life and food consumption. With this research having both in the lab and immediate out of lab implications, I am continually asking new questions while becoming ever-more conscious about the food I consume. 
What is the name of the award you received, and can you briefly describe it?
I received the F99/K00 also known as the Blueprint Diversity Specialized Predoctoral to Postdoctoral Advancement in Neuroscience (D-SPAN). This award provides up to 6 years of funding, including support for 1-2 years of PhD research and up to four years of a post-doctoral fellowship, with the goal of supporting graduate students from backgrounds that are underrepresented in neuroscience. 
What does this award mean to you?
This award has given me the freedom to explore my research interest and increase my training in ways previously not imaginable. I planned to complete a post-doctoral fellowship after receiving my PhD but now I can do that without compromising on the research I want to do. I plan on continuing research on dietary effects on the brain, and with the grant, I can propose my project and apply more selectively than I would be able to otherwise. Furthermore, this grant is accompanied by a network of amazing scientists and a plethora of training opportunities that will assist me in maximizing my potential as a scientist. This grant provides amazing opportunities and I am beyond pleased to have received it.
Do you have tips for other students interested in applying for this award or other external awards?
Edit, edit, and edit. I had multiple people, both inside and outside of my field, read over my grant. This allowed for in-depth scientific editing as well as general language editing. Through having both categories of editors, I was able to make sure that the grant was scientifically sound and clear enough to understand by reviewers whose research did not directly coincide with the proposed research areas. 
If you could meet one scientist, who would you want to meet and why?
Mae C. Jemison
She is a true interdisciplinary scientist whose lifework will advance a wide range of fields including medicine, engineering, and astronomy. I have always admired how she is not limited by the boundaries between fields and, perhaps more importantly, by those of society. I would love to have the opportunity to ask her about her experiences.