Richard Terranova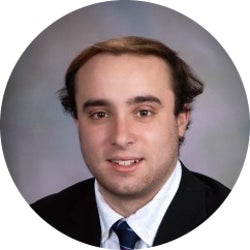 2021 Ignatian Hoya Recipient
About Richard
Richard Terranova is from Staten Island, New York. Before coming to Georgetown's Biomedical Graduate Education, Richard studied at the University of Scranton, majoring in Neuroscience.
Why did you choose Biomedical Graduate Education at Georgetown University?
I chose Georgetown University because of the academic rigor, the extensive research opportunities, and my desire to pursue medicine and medical research. Georgetown provided me with the opportunity to take the next step in my academic career in an environment that fosters creativity, high standards, and service to others. There is no place that I would rather be.
What do you hope to accomplish here at Georgetown and/or what is your interest in biomedical research or graduate studies?
I hope to learn how to integrate my knowledge of the biomedical sciences with direct service to those less fortunate than myself. I am interested in clinical research and understanding how the body functions and adapts to different stimuli or microenvironments. I want to learn how to change these environments and improve bodily function to provide people with the highest quality of life possible. Life is a gift and I want to learn how to persevere this gift. Through the integration of my courses and my research, Georgetown will help me accomplish this.
What community service activity has meant the most to you?
My most impactful community service activity was volunteering at the Seton Foundation for Learning. This organization supports and educates special needs children to ensure that each child gains a level of independence that will allow them to make meaningful contributions to society and to reach their fullest potential. Through working with special needs children, I learned the importance of giving back and providing individualized attention to our communities' most vulnerable members. This experience showed me that service is not about doing a job; rather, service is about creating relationships and forming connections with others. Through teaching and monitoring skill programs, I helped these children to work toward independent living and reach their full potential.
This service opened my eyes to the struggles of today's society and, more importantly, showed me that I can help change their lives. Through volunteering I developed relationships with each student and learned that through forming relationships with people in need I can make a lasting, positive impact on society. Here, I learned that service will allow me to go forth and transform the world for the greater glory of God.