Sarah Martinez Roth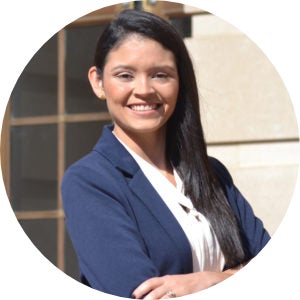 2018 National Cancer Institute – Ruth L. Kirschstein Diversity National Research Service Award (Diversity NRSA F31)
About Sarah
Sarah Martinez Roth is a 3rd-year candidate of the PhD in Tumor Biology program at Biomedical Graduate Education (BGE). She is a proud Latina born and raised in Brooklyn, New York. She graduated with a Bachelor of Arts with honors in Biology with minors in chemistry and Theatre & Dance from Colby College in 2011. While at Colby she completed her honors thesis, in a plant molecular Biology lab, studying hormone regulation in regards to barley seed dormancy. After graduation she moved to Boston, MA where she worked as a Research Technician II and lab manager for two years in the Cancer Center at Massachusetts General Hospital, doing research in pediatric cancer using zebrafish as an animal model. She then moved to Washington, DC to pursue an advanced post- baccalaureate program called the Georgetown Experimental Medical Sciences program at Georgetown University. After graduating with her Masters of Science in Physiology & Biophysics at Georgetown University in June 2015, she moved to New York and worked as Research Associate II at Regeneron Pharmaceuticals in the Immunology and Inflammation Department. Outside of the lab Sarah Martinez Roth is an advisory board member with the Posse Foundation, which she herself is an alumna. Posse helps recruit, train and sends a "Posse" of local high school students from Washington, DC, Maryland and Virginia to top 100 colleges across the country on a full-tuition leadership scholarship.
What made you choose Georgetown University for your PhD?
While at Georgetown University for my Masters of Science degree, I took elective classes in the Tumor Biology Program. I absolutely fell in love with the faculty in the Tumor Biology department. I knew I wanted to join a PhD program that was small and intimate. I wanted to be in a program where I would have one-on-one relationships with faculty members. I knew the Tumor Biology department would be the perfect place for me to grow as a scientist and researcher.
What is your research focus and how did you become interested in it?
My research in Dr. Anton Wellstein's lab focuses on using circulating DNA as biomarkers for adverse events in patients being treated with immunotherapy. My goal is to be able to see if we can detect changes in the pattern of the DNA in patients to see if we can predict whether or not they will have a side effect from immunotherapy treatment.
My years as a technician and lab manager in the Cancer Center at Massachusetts General Hospital sparked my interest in cancer research. My time at Regeneron Pharmaceuticals in the immunology and inflammation department sparked my interest in immunology. Combined, these two experiences ignited my interest in immunotherapy.
What is the name of the award you received, and can you briefly describe it?
"2018 National Cancer Institute – Ruth L. Kirschstein Diversity National Research Service Award (Diversity NRSA F31)"
The mission of the Ruth L. Kirschstein National Research Service Award (NRSA) Individual Predoctoral Fellowship is to promote and enhance diversity in health related research fields by supporting the professional  development and training of predoctoral students from population groups that have been shown to be underrepresented in the biomedical, behavioral, and clinical research workforce, including underrepresented racial and ethnic groups and those with disabilities.
What do these awards mean to you?
Growing up I did not know anyone who was a scientist, let alone a Latinx scientist or a female scientist. Being able to have the opportunity to pursue science as a career is something that I have worked very hard for. I am very grateful for all of the mentorship from my undergraduate professors, my mentors at Regeneron and Massachusetts General Hospital, and Dr. Wellstein and Dr. Riegel here at Georgetown. I would not be here if it not for their guidance and support. This grant is a culmination of a path built brick by brick. It absolutely did not happen overnight. I am humbled and honored to see my science journey acknowledged to this high standard, and I am very excited for the training opportunities this grant will provide to help me grow and expand my skills as a scientist. Lastly, I hope my story inspires other underrepresented students to explore and pursue science as a career.
Do you have tips for other students interested in applying for this award or other external awards?
My best advice to students interested in applying for this award is to be sure to show who you are as a whole person on your application, not just who you are as a scientist. Showcase the mentorship you do inside and outside of the lab, the other activities that you are passionate about and tell your story of how you got to where you are. Last but not least, do not be afraid to apply and put yourself out there.
If you could meet one scientist, who would you want to meet and why?
If I could meet one scientist, it would be Dr. Ruth Kirchstein, the namesake of this grant. In 2002, Congress renamed the NIH graduate student fellowship program to the Ruth L. Kirschstein National Research Service Award in honor of Kirschstein's work at the NIH. In 1974, Kirschstein became the first woman appointed as director of the National Institute of General Medical Sciences for her safety research on the polio vaccine. If I could go back in time to meet her I would like to thank her for breaking down barriers so that women of any race and religion can pursue science as a career.