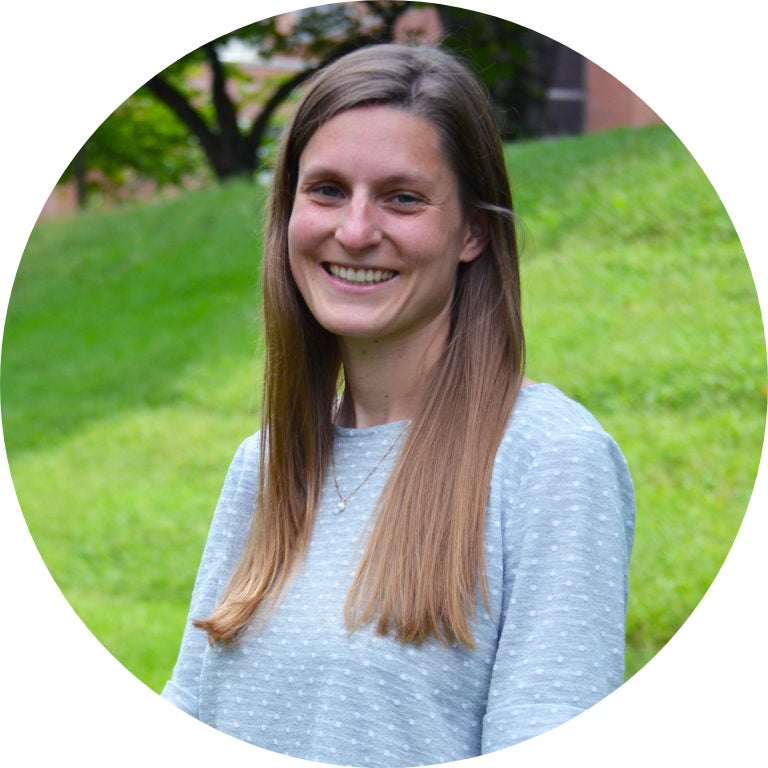 National Science Foundation Graduate Research Fellowship
About Shannon
Shannon White is a 3rd-year candidate in the PhD Tumor Biology program at Biomedical Graduate Education (BGE). She grew up in Gaithersburg, Maryland, not too far from Georgetown University.
What made you choose Georgetown University for your PhD?
I chose the Tumor Biology program at Georgetown because the faculty are heavily involved in the education of the graduate students and the labs are extremely collaborative and supportive of one another.
What is your research focus and how did you become interested in it?
My research focuses on discovering how protein signaling networks drive cancer progression. I became interested in protein signaling because proteins are the functional output of the genetic abnormalities in cancer cells and they directly control how the cell responds to any stimulus. If we are able to create a more complete understanding of how proteins communicate with one another in a cancer cell we will be better equipped to treat cancer patients.
What is the name of the award you received, and can you briefly describe it?
I received the National Science Foundation Graduate Research Fellowship. The award provides a 3-year stipend plus additional funding for tuition, research-related costs, and professional development. This award also provides opportunities for the fellows to engage in research collaborations with international investigators who partner with the program.
What do these awards mean to you?
Receiving this award was an incredible honor and has expanded my opportunities for professional and scientific growth. It is encouraging as an early career scientist to receive external support for my scientific ideas and overall professional goals.
Do you have tips for other students interested in applying for this award or other external awards?
My advice is to always apply and give yourself a shot. Applying for awards is excellent training in scientific writing, promoting your background and ideas, and designing a concise and coherent research plan. Even if you don't receive the award, you are learning how to better communicate your ideas and ambitions which is an essential skill to grow as a scientist.
If you could meet one scientist, who would you want to meet and why?
There are many great scientists I'd love to meet, but someone that comes to mind is Carl Sagan. Not only was he an exceptional astrophysicist, but he devoted towards communicating science with the general population which is something I admire.