About Us
Our vision is to teach the skills necessary for a career in science while helping students demonstrate to schools and employers what makes them unique.
Biomedical Graduate Education (BGE) offers a variety of PhD, master's and certificate programs in interdisciplinary basic and health science, data science, policy and ethics, and industry science.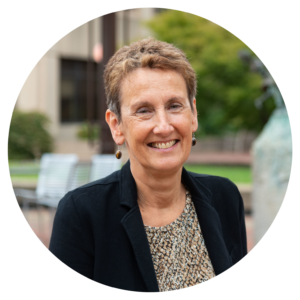 Anna Tate Riegel
Senior Associate Dean of Biomedical Graduate Education
"The mission of Biomedical Graduate Education (BGE) is to provide outstanding education, innovative research opportunities, career advice and mentorship in the biomedical sciences for students pursuing careers as researchers, educators, health care professionals and scholars."
Transformative Experiences
Biomedical Graduate Education isn't the final destination, but a valuable experience that prepares students for the opportunities that lie ahead. We are invested in providing the training, resources, and personalized career strategies for our students to have a more direct path to their desired careers and to differentiate themselves.
Rigorous Academics
Our competitive programs combine a rigorous curriculum, faculty engagement, and personalized career strategy and professional development services to equip students to achieve their aspirations. Students are encouraged to explore their interests through electives, research opportunities, seminars, and workshops, giving them space to discover the areas where they want to focus and to personalize their education.
Ideal Location
Georgetown University is located in the nation's capital, home to a vibrant community of biotechnology, pharmaceutical, and life science companies, federal agencies, and federal laboratories. Our students have access to Georgetown's renowned faculty as well as experts from the local community for personalized mentoring, internships, and networking.