From Dubai to D.C., Scholarship Recipient Embraces 'Hustle' to Protect Public Health
Before arriving at Georgetown's campus in Washington, D.C., Chinmayee Mehta worked at a biotechnology lab in Dubai, United Arab Emirates, helping to safeguard the food and water of one of the world's most visited destinations.
The "hustle" Mehta honed in the lab and in her undergraduate studies has fueled her success in Georgetown Biomedical Graduate Education's (BGE) M.S. in Microbiology & Immunology program, which she aims to complete in two 15-credit semesters.
"I like the hustle, 'cause that's what I did back home," Mehta says. "In the UAE it was pretty tough, so I was used to just hustling hard all the time."
Her efforts in the UAE have also earned her support for her studies. Mehta is the first award recipient for the Lamees Hamdan, M.D., Endowed Scholarship Fund, which honors students with interests in Emirati health care. The award covered her tuition for the Spring semester.
"Receiving [the scholarship] has been an incredible experience that has transformed my time at Georgetown – I was over the moon when I found out about it," Mehta says. "The financial support has enabled me to focus more fully on academics without worrying about the burden it puts on my parents."
Originally from Mumbai, India, Mehta lived in the UAE for nine years. As an undergraduate intern and then a lab technician at Advance Biotechnology Centre in Dubai, she tested the quality of food and water from the city's hospitals and clinics. She also earned International Organization for Standardization (ISO) certification in order to test food for genetically modified organisms and pork contamination, both threats to the halal status of meals for Dubai's Muslim residents and visitors.
After living in the Middle Eastern metropolis, moving to D.C. for grad school wasn't too much of a culture shock, but there were new opportunities and challenges at Georgetown. Mehta found that lessons favored applications rather than memorization, "so you would want to know what you're going to do with this information."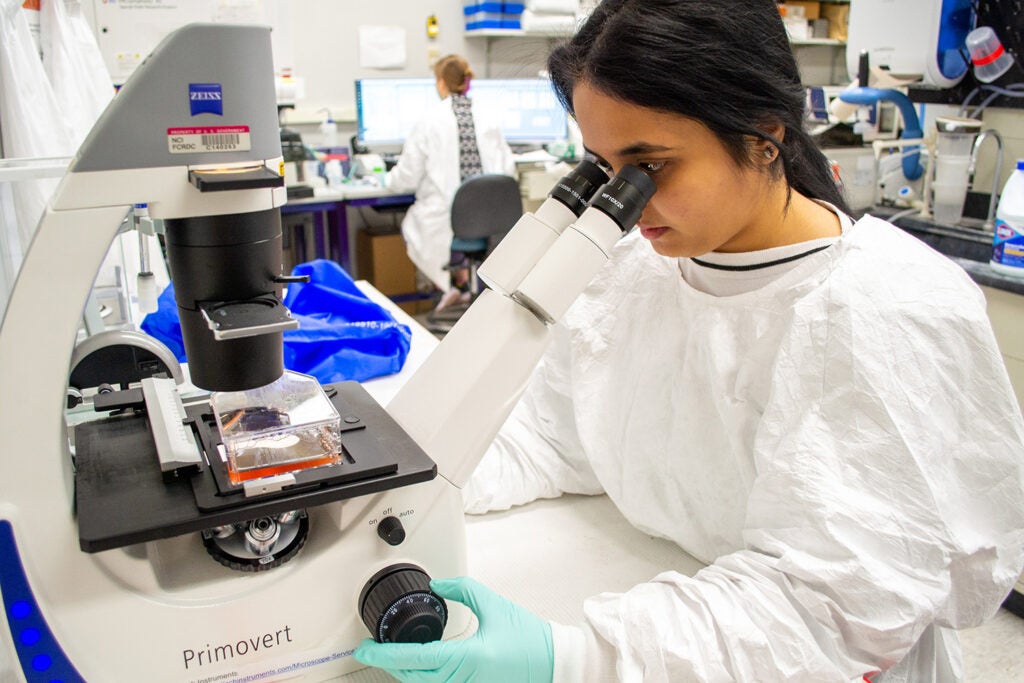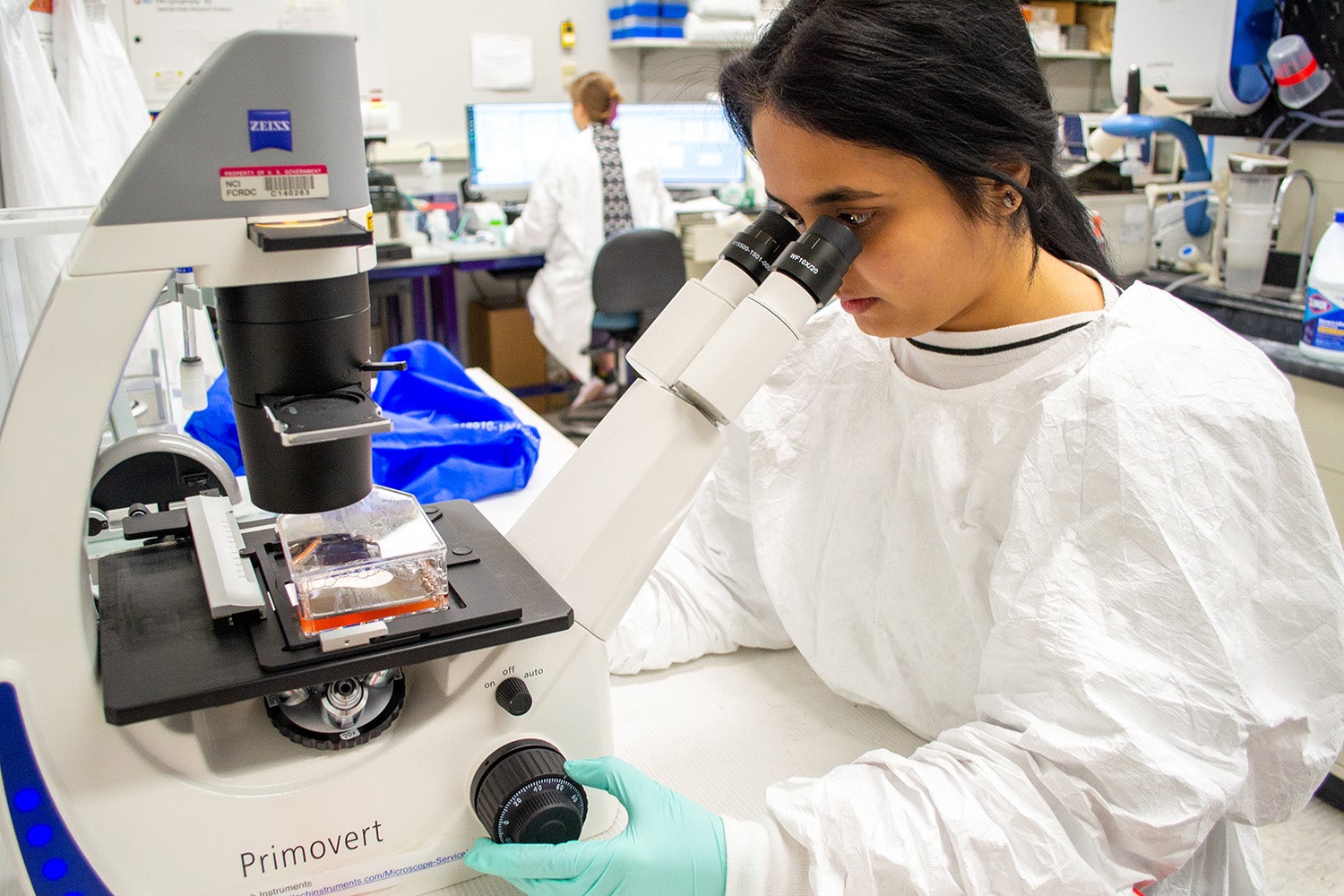 In the Georgetown program, Mehta is delving into the challenges of antibiotic resistance and HIV. As a member of Associate Professor Marta Catalfamo's lab, she helps in the search for immunotherapies that could train the immune system to combat HIV. Mehta explains: "The drugs that are used to treat [HIV] right now are pretty heavy on the body, so it would be better if we could just get our body to fight it."
Catalfamo praises Mehta's motivation: "She is very responsible and demonstrated to be an exceptional and highly motivated student with a genuine passion for Immunology. … I offered her to stay in the laboratory after graduation to further increase her research experience."
Outside of classes, Mehta, a self-described introvert, has adapted to a "very close-knit" community where "everyone knows everyone." She explores the city with fellow residents of the university's H Street apartments and participates in a South Asian students group. "Now that I have the confidence, I've made some lifelong friends," she says.
Mehta hopes to continue her studies after the master's program by enrolling in BGE's Ph.D. in Microbiology & Immunology. She also hopes to make it to the National Institutes of Health. Georgetown's proximity to the NIH campus in Bethesda, Maryland, was one of the benefits that stood out to her as an applicant – and since starting in the master's program, she's heard more about the HIV/AIDS program there from Catalfamo, a former NIH scientist, and from guest speakers.
Eventually, she sees herself returning to the UAE "to help out there" in a growing health sector, giving back to the country where she got her start in biomedicine. And after that, she'd like to support future generations of scientists.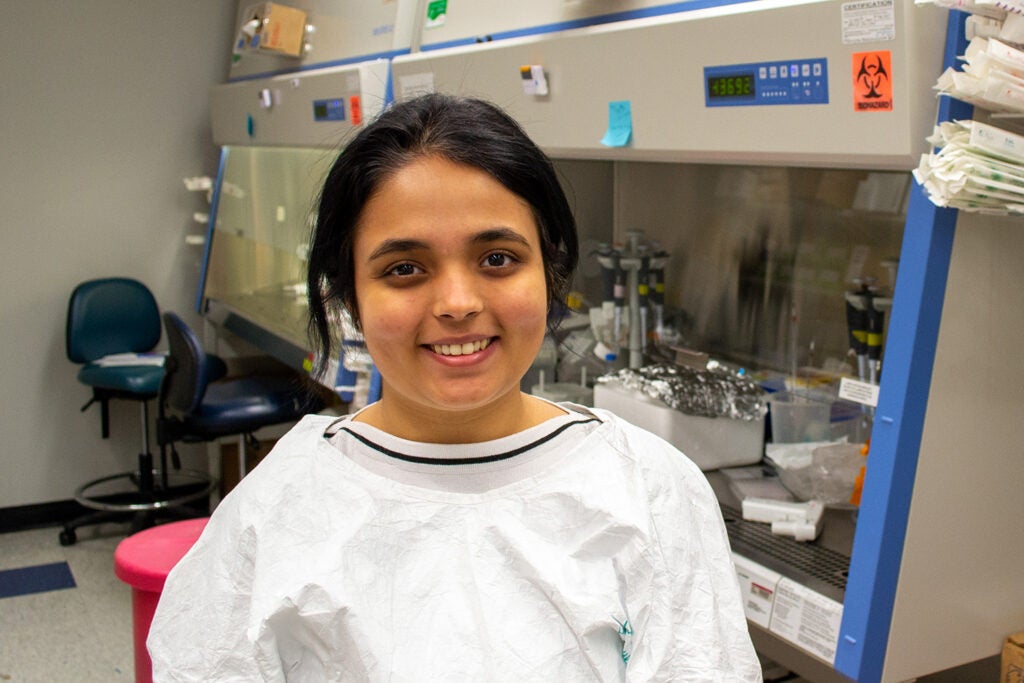 "My end goal – like, after a lot of working – I would just want to be a professor, because I love academia, I love just being in school," she says.
"I am deeply grateful to Dr. Hamdan and Georgetown for the opportunity and will continue to work hard to make the most of it. This has been an unforgettable experience – I hope to be able to do the same for students in the future."