Abigayle Hughes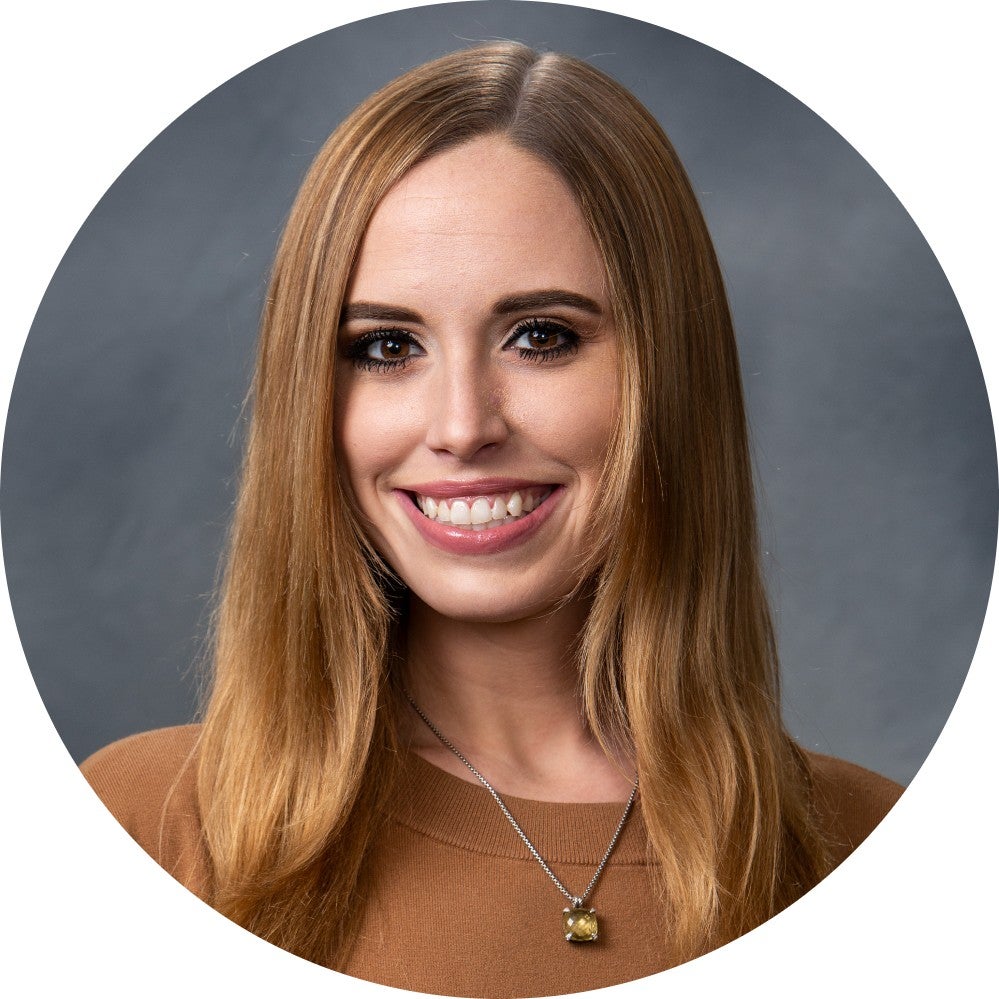 2021 Ignatian Hoya Recipient
About Abigayle
Abigayle Hughes is from San Antonio, Texas. Before coming to Georgetown's Biomedical Graduate Education, Abigayle studied at the University of Notre Dame, majoring in Neuroscience and Behavior and minoring in Italian Studies.
Why did you choose Biomedical Graduate Education at Georgetown University?
After studying neuroscience and behavior as an undergraduate student, I developed a passion for learning about the intricacies of the human nervous system. I wanted to attend a program that facilitated my understanding of complex topics in neuroscience on the path to pursuing a career in medicine. I was immediately captivated by Georgetown's Integrative Neuroscience program because of its rigorous curriculum and the opportunity to participate in neuroscience research under the guidance of a faculty advisor.
After attending the University of Notre Dame, I developed an immense appreciation for an education guided by the principles of Catholic social teaching. Because of this, I was also enticed by Georgetown's utilization of a Jesuit, holistic approach to academics.
What do you hope to accomplish here at Georgetown and/or what is your interest in biomedical research or graduate studies?
While at Georgetown, I hope to further my knowledge of neuroscience and utilize my deeper understanding to inform my approach to caring for patients as a medical student and physician in the future. I have always been extremely interested in conducting research on neurodevelopmental disabilities and specifically on autism spectrum disorder. I am very grateful for the opportunity to do just that while working in Dr. Kromer's lab, investigating the molecular mechanisms potentially underlying the abnormal neural development observed in those with ASD. Through my work in this lab, I hope to contribute to meaningful findings that could lead to further developments in the scientific understanding of neurodevelopmental disorders. I also hope that through Georgetown's holistic approach to education, guided by Jesuit principles, I will be better prepared to apply an integrative approach to medical treatment as a physician, focusing on care of the whole person with consideration of both physical and mental health.
What community service activity has meant the most to you?
My devotion to service was initiated with the establishment of my own nonprofit organization, Petey's Promise. The organization was founded in 2009 with the intention of assisting autistic children and their families, providing a means of support and connecting parents to a broader network of autism services.
For many autistic individuals, including my younger brother, their disabilities prevent them from engaging in the same activities as their typically-developing counterparts. I have worked with many families in the San Antonio area to help them find community resources that meet the specific needs of their children, particularly after high school graduation. The autistic individuals I have worked with have shown me the unique, invaluable perspectives contributed by those who do not align with a neurotypical characterization. The experiences I have had through this organization have also demonstrated our society's shortcomings in promoting the inclusion and acceptance of individuals with intellectual and developmental disabilities.
In working with many families looking for services for their autistic children, I have become cognizant of the needs of this community. The medical resources specifically tailored to the developmentally disabled population are scarce, despite the difficulty many of these individuals face going to a traditional doctor's office and experiencing the associated anxiety and sensory overload.
My work with Petey's Promise was the initial inspiration for my pursuit of a neuroscience education and a career in medicine: to serve neurodiverse individuals in need of cultivated, individualized healthcare. I am hopeful that the experiences I have had with autistic children and young adults through this organization will give me the tools to advocate for the medically disadvantaged as a neuroscience student, while promoting a culture of inclusivity among diverse populations. I believe that my time at Georgetown will provide me with the necessary tools to develop a deeper understanding of neurodevelopmental disabilities and will endow me with a neuroscience-based perspective in my approach to promoting autism awareness and acceptance.