Jamari McCoy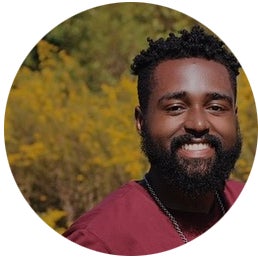 2020 Hoyas for Science Recipient
About Jamari
Jamari McCoy is from Shelby, North Carolina. Before coming to Georgetown's Biomedical Graduate Education, Jamari studied Biology at University of North Carolina at Greensboro.
Why did you choose Biomedical Graduate Education at Georgetown University?
I choose the System Medicine program because it will help strengthen my long-term goal; which is to become a doctor. This innovative program not only allows you to think abstractly but also to have a different perspective on medical care. Every human on this earth is different. So, treating them as your "average" patient wouldn't be giving them the best care that they deserve. This program will help me to take into consideration a person's genetic and social background to give them the best care.
What do you hope to accomplish here at Georgetown and/or what is your interest in biomedical research or graduate studies?
I hope to accomplish my lifelong dream of graduating from Georgetown with my Master's in Systems Medicine and continuing my education through medical school. While at Georgetown, I want to be able to absorb as much knowledge and insight that I can from this diverse community. My interest in biomedical research is to broaden my perspective by gaining valuable knowledge with learning how to effectively help my clients and community.
What is your life motto for overcoming challenges and/or supporting diversity and cultural understanding?
"The race is not given to the swift nor to the strong but to the one that endures to the end."