Jared May
Jared May (GSAS '15) is currently a 3rd year PhD student with the Microbiology and Immunology Program under the tutelage of Dr. Brent Korba, who specializes in researching antiviral therapies against the Hepatitis B and Hepatitis C viruses. Jared is also an active member of the Medical Center Graduate Student Organization (MCGSO), a student-led campus group that advocates on behalf of biomedical graduate student interests at Georgetown.
---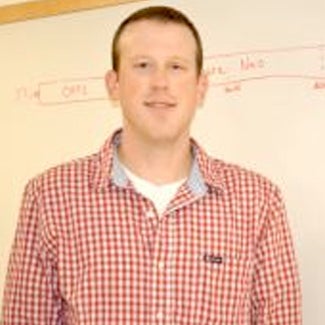 Tell us about your program and research you are working on.
I am in my third year in the Microbiology & Immunology PhD program. I work in the laboratory of Dr. Brent Korba. I am studying the viral protease of human norovirus. The norovirus protease is responsible for cleaving the viral polyprotein to release the mature non-structural proteins. This occurs in a specific order, but the mechanism is not well understood. Using a protease assay developed in our laboratory, I am working on defining the governing mechanisms controlling polyprotein processing order, mainly through enzyme kinetics.
Why did you decide to study at Georgetown? How has your time here informed your academic and career choices?
I decided to come to Georgetown because I was interested in the work of multiple laboratories within the department of Microbiology and Immunology. The research diversity and scope of work being done here has allowed me to do rotations in fields of research that interested me before ultimately settling on my final thesis research.
What advice would you give current or prospective students looking to get into your field of study?
Try to get as much laboratory experience as possible. As an undergraduate, I completed a year- long independent study under the supervision of a faculty member where I learned basic molecular biology techniques, lab etiquette, and most importantly- scientific writing skills. I presented my findings at a professional meeting which provided valuable experience in scientific presentations. The skills I learned as an undergraduate allowed for a smooth transition into the setting of PhD research.