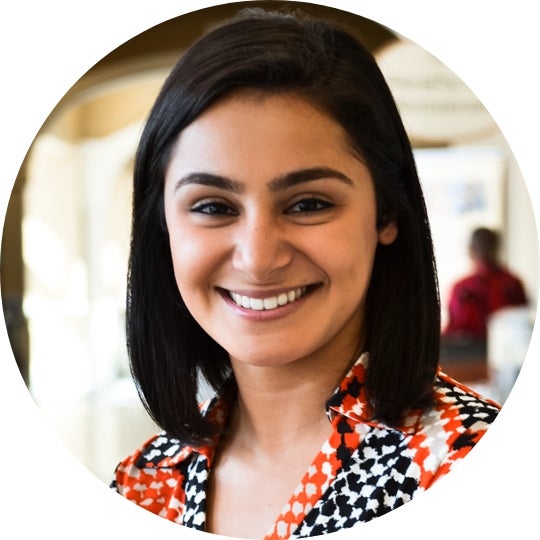 2017 Hoyas for Science Recipient
About Mara
Before coming to Georgetown's Biomedical Graduate Education, Mara Bahri was studying at Portland State University Honors College where she earned a degree in Biology and General Sciences. Originally from Portland, Oregon, Mara came to BGE to earn her M.S. in Integrative Neuroscience.
Why did you choose Biomedical Graduate Education at Georgetown University?
I chose Georgetown University BGE because the Integrative Neuroscience program's curriculum aligned with my academic goals. There is an unspoken thrill in research. I feel a sense of purpose and resolve having the ability to entertain curiosities, investigate hundreds of studies, and find solutions through a collaborative effort from studies around the globe. The fulfillment I gain from research was confirmed during the arduous process of writing my senior thesis which proposed a novel animal model to study the de-/remyelination phases of multiple sclerosis (MS) in order to provide a more reflective model that may be utilized in the assessment of possible therapeutics. This, compounded by a family member's diagnosis of multiple sclerosis in 2005 has continued to strengthen my interest in research and its clinical applications.
As a Hoyas for Science Scholarship recipient, you were selected because your application "demonstrated a commitment to biomedical research and graduate studies at the Masters' level." What do you hope to accomplish here at Georgetown and/or what is your interest in biomedical research or graduate studies?
While at Georgetown, I intend to strengthen my lab technique and analytical skills, while gaining a deeper understanding of the field. Upon completion of this program, I anticipate pursuing my interest in MS therapeutics.
What is your life motto for overcoming challenges and/or supporting diversity and cultural understanding?
I believe the premise of understanding diversity and promoting cultural sensitivity is a perspective of others. The ability to approach novel situations with open communication will foster not only fruitful ideas but also trust.