Shania Jafri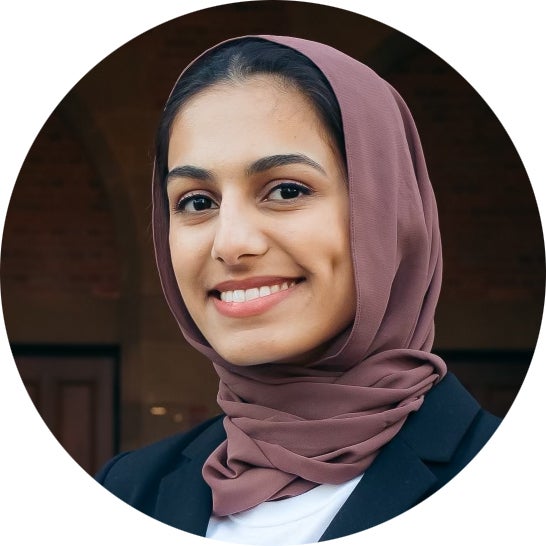 2023 Hoyas for Science Recipient
M.S. in Health Informatics & Data Science
About Shania
Shania Jafri is from California. Before coming to Georgetown Biomedical Graduate Education, she earned a B.S. in Neuroscience from the University of Southern California.
How do you support diversity and cultural understanding?
As a Pakistani-Muslim American, I am constantly finding layers of connections through my identity. I love immersing myself in different cultures, whether that is trying different foods, attending cultural events, and most importantly asking questions. There's an article I resonated with by Priya Parker, who defines an "artful gatherer." It's the idea of being able to create something meaningful in our daily connections, "one gathering at a time." I find myself looking closely at the communities I am from and not from, hoping to find meaning in every interaction I encounter.
Why did you choose Georgetown BGE for your graduate studies?
I liked the courses my program offered and how efficient it was where I could obtain my master's in just a year. The curriculum has been constantly updated with the rise of technology (especially AI), and I knew I'd obtain the most up-to-date skills leaving the program.
Why did you choose your program at Georgetown BGE for your graduate studies?
I hope to head back to California, where I can continue exploring my passions in the health sector. I want immerse myself in health technology and continue innovating the field of medicine. I also have interests in health policy, where I hope to use my knowledge from my master's to improve health equity in underserved populations.
What advice would you give to future BGE students?
Take advantage of how small the classes are and how accessible the professors are. They are not just lecturers, but are mentors who want to support in every way possible.